Wockhardt Heart Hospital, mumbai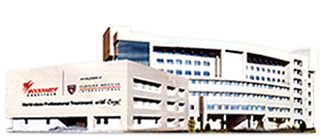 With its latest technological advances and ethical management practices Wockhardt pledges to provide international standard cardiac care to its patients. Wockhardt Heart Care, with the best Cardiac Surgeons, Cardiologist & Medical Staff delivers world standard heart care with the highest degree of convenience, care and compassion at a reasonable cost.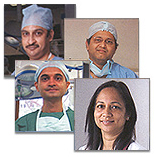 Achievements : -
The 1st hospital chain in the world to perform Awake Heart Bypass Surgery with Aortic Valve Replacement
The 1st hospital chain in Australasia region to perform Minimally Invasive Beating Heart Cooronary Artery Bypass Surgery
The 1st hospital chain in India to treat Chronic Atrial Fibrillation using Maze III procedure
The 1st hospital chain in India to perform Vertebral Artery Angioplasty
Rich experience of performing more than 14000 cardiac surgeries, 15000 angioplasties & 35000 Intterventional Cardiac Procedures

World's first awake bypass surgery with valve replacement performed at Wockhardt Hospitals, Bangalore Another chapter in the history of heart surgery across the world was written in India by the Bangalore-based Wockhardt Hospital & Heart Institute, recently.

Dr Vivek Jawali, chief cardiovascular surgeon along with his team at Wockhardt Heart Institute have set a global benchmark by performing the first coronary bypass surgery along with an aortic valve replacement without using general anaesthesia or ventilator support while the patient was on a heart lung machine.

This is the first such reported case in the world of a twin heart surgery, the only other being a routine coronary bypass surgery on a heart lung machine. "This patient had multifaceted medical complications, required a bypass surgery and an aortic valve replacement. His lung condition did not permit the use of a ventilator and he was high risk for general anaesthesia.

With his surgery being rejected at various centres before he came to us, his best chance of survival was an open heart surgery without general anaesthesia, in other words, an awake heart surgery. We give him that chance using the technique of high thoracic epidural analgesia and a new direction in heart surgery has been unveiled," recounted Dr Jawali.

The technique of high thoracic epidural analgesia is a highly precision based methodology which involves injection of micro doses of local anaesthetic in the epidural space around the spinal cord which anaesthetises only the chest region while the rest of the system is fully awake.

This enables a painless chest surgery and makes the surgery safe for patients who are high risk for general anaesthesia. Besides the team at Wockhardt Heart Institute in India, Dr Aybek in West Germany has been doing same pioneering in Europe with this technique in heart surgery.

"Heart operations where the patient is awake without general anaesthesia or respiratory assistance was until now limited to beating heart bypass surgeries only. The associated valve replacement throws open the doors of surgery for many patients (many in their most productive years) who are termed inoperable," explained Dr Jawali. Dr Vivek Jawali and Dr Murali Chakravarthy, chief cardiac anaesthetist of Wockhardt Heart Institute are the national pioneers of awake coronary bypass surgery on beating heart through full chest incisions and over the last two years have performed 255 awake heart surgeries and have six international publications on this topic in the leading journals of the world to their credit.

It was one of the most critical decisions George Marshall faced in his life. The 73-year-old violin repairer from Bradford, UK, suffering from severe angina (chest pain), was told by his local doctor that he had a choice of waiting for six months for a heart bypass operation on the National Health Service (NHS) or pay 19,000 sterling pounds for the same operation at a private hospital in Britain.

Marshall met a fellow Briton, Ian Stanley Brown, who had earlier undergone a coronary angioplasty by Consultant Cardiologist Dr. Ranganath Nayak at the Wockhardt Hospital & Heart Institute (WHHI). And after an email chat with Wockhardt Hospitals' Vishal Bali, he took the bold decision to fly 5,000 miles to WHHI in Bangalore.

A hale and hearty Marshall was discharged on 9th February after a successful double bypass surgery performed by Dr. Vivek Jawali, the hospital's chief cardiovascular surgeon. A piece of artery was taken from Marshall's arm to bypass the blocks in the arteries of his heart.

"Everybody's been great here and my stay has been pretty relaxing. I have been in the NHS and gone private in Britain in the past, but I can say that the care and facilities in India are easily comparable," Marshall told UK newspaper Guardian from his hospital bed after his surgery. "I'd have had no problem coming again." It cost him only 4,800 sterling pounds, and that included the cost of his flight from UK to India and back. He is now back home with his family and friends.

Marshall is the latest in a list of patients from Europe who hay, placed their trust in Wockhardt and India, and are spreading the good work back home. Wockhardt Hospitals has shown that innovation and excellence in science and technology are no longer the exclusive preserve of the West.



Innovative Technology

The Wockhardt Heart Care assures comprehensive end-to-end cardiac care under one roof. The hospital is a center of excellence for cardiac surgeries and Angioplasties and has already performed the first Endoscopic Radial Harvested coronary bypass surgery. Wockhardt Heart Care is equipped to handle any cardiac condition from diagnostic tests to open heart surgery. Wockhardt has the capability and the technology to evaluate, treat and rehabilitate patients with cardiac conditions.



Cardiothoracic Operation Theatre

Cardiothoracic operation theatre (OT) has the latest, first time in India equipment and is designed on internationally accepted sterility norms. Each theatre has an independent A/C system with a laminar airflow wherein air cycles change 25 times per hour. This ensures a minimal risk of infections for the patients.

Heart surgery at Wockhardt Heart Care is performed in a state-of-the-art operating suite by a highly skilled, specially trained and dedicated team of cardiac professionals. Diagnostic and therapeutic procedures such as Angioplasty, Stenting, Atherectomy, Intraaortic Balloon Pump Insertion and Pacemaker Insertions are all performed in our Cardiac Catheterization suite.


The surgical team includes : -
Cardiac surgeon
Physician assistant
Cardiac trained anesthesiologists
Perfusionists (who run the "heart-lung machine")
Cardiac operating room nurses
Specialized operating room technicians
Services & Procedures

The Wockhardt Heart Care assures comprehensive end-to-end cardiac care under one roof. The hospital is a centre of excellence for interventional cardiology & cardiac surgeries and has performed first ever Conscious Off Pump Coronary Artery Bypass Surgery - COPCAB.(Awake Heart Surgery - ACAB) in the Western India. Center has been recogonized as the destination for cardiac care in Western India.


CARDIO - Thoracic And Vascular Surgeries
Beating Heart Bypass Surgery (Off - Pump Coronary Bypass Surgery)
Conscious Off Pump Coronary Artery Bypass Surgery - COPCAB (Awake Coronary Artery Bypass Surgery -ACAB)
On-Pump Coronary Artery Bypass Surgery
Redo Bypass Surgery
Valve Surgery
MVR with Correction of Atrial fibrillation using Maze III Procedure
Vascular Surgery
Thoracic & Pulmonary Surgeries
Adult & Paediatric Open Heart Surgeries
Interventional Cardiology Procedures
Coronary Angiography & Angioplasty (both Femoral & Radial Approach)
Angiogram & Angioplasty of arteries of Neck, Leg , Arm, Kidney
Permanent pacemaker (Single & Double Chamber)
Valvuloplasty
EP Study Diagnostic & Ablation
ASD closure with device
Cardiac Rehabilitation Programme
Branches of Wockhardt Hospitals in India : -

For more information, medical assessment and medical quote send your detailed medical history and medical reports
as email attachment to
Email : - info@wecareindia.com
Call: +91 9029304141 (10 am. To 8 pm. IST)
(Only for international patients seeking treatment in India)
For a detailed evaluation send patientís medical reports / X rays / doctors notes to info@wecareindia.com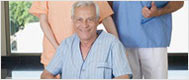 Patient Storys
Successful heart surgery at We Care India partner hospital allows Robert Clarke to live a normal life despite a rare genetic disorder We Care india helped Robert find best super specialised surgeon for his rare conditions.

Read : Robert's Story
See All : Patient's Success Stories


Related Link
Group Websites
Find us on