Scar and Stretch Mark Treatments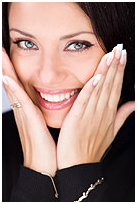 Unsightly scars and stretch marks, or striae, have presented problems for men and women for centuries. Scars and stretch marks are generally considered unsightly, disfiguring and unacceptable by many people.




Q.

What causes scars & stretch marks ?



Scars and stretch marks develop as a result of disruption of the integrity of the dermis, which is the deeper layer of skin. The appearance of scars and stretch marks is due to bands of collagen which the body lays to form strong bonds in order to hold the skin together where it was once cut, as seen in surgery and trauma.

Stretch marks are similar to scars in that there is pulling of the skin, leading to small linear scars, but there is no actual separation of the skin as with true scar formation. Stretch marks appear after the skin is stretched excessively such as in pregnancy, spurt of growth during puberty, rapid weight gain, and in body builders.



New Laser Technology

Today, several new laser techniques are available to treat a wide variety of scars and stretch marks. The laser's energy stimulates the skin under the scar and causes the fibroblasts in the skin to begin to divide again. It also stimulates the production of collagen. This thickens the skin under the scar until it closely resembles the surrounding normal skin.


Q.

Who are the best candidates for laser scar and stretch mark removal ?




The patients that respond the best to laser treatment for scars and stretch marks are those with : -
Fair complexion and light pigmentation.
Shallow scars or stretch marks.

Note: Patients with a history of Vitiligo, pigmentation disorders, dark tans or dark pigmentation may require an initial skin test for evaluation prior to treatment.


Q.

How many treatments are needed ?



The number of treatments required depends on several factors related to your specific skin type and color. Usually five to six treatments spread out a month apart are required to achieve satisfactory results.



Procedure

The first step of the protocol is to use non--invasive lasers and light based treatments to help increase collagen and elastin, and to improve discoloration. The second step is to smooth the surface of the skin using treatments like microdermabrasion and light chemical peels. The third component of treatment is home use of topical skin products. These three steps combined then lead to a gradual reduction in the appearance of stretch marks over a 3 to 6 month period.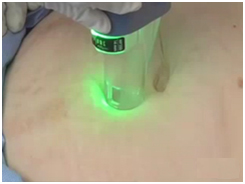 Cosmetic lasers are a new method for removal of stretch marks. Unlike traditional treatments like stretch mark creams and gels, lasers are used to stimulate new collagen growth and fill the stretch mark from the bottom up. The laser energy is absorbed in the dermal layer of the skin stimulating the production of new collagen. As the new collagen thickens and plumps the skin, it fills in the stretch mark from below.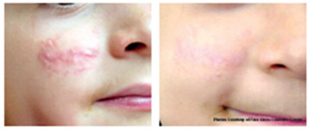 Q.

Do laser treatments work ?



Current laser technology has been shown to improve or eliminate red or raised scars. Recent studies have demonstrated that laser treatments stimulate the production of collagen and improve or eliminate the appearance of stretch marks. Additional studies show that the appearance of stretch marks continues to improve over a period of time ranging from 3 to 6 months after the laser treatment was given. Even those treatments that showed little if any initial improvement showed as much as a 50% improvement at their 6 month checkup.


Q.

What else can be used to treat scars ?



ScarfadeT and LaserfadeT are silicone gels that when applied to the skin form a micro-thin layer of silicone on the scar. They can be worn under cosmetics and are both easily tolerated by children. The silicone is thought to moisturize the skin, reduce capillary irritation and allow the skin to return to its normal texture and color.


Q.

What should you expect after treatment ?



Results vary from patient to patient and may not be immediate. Results from laser scar and stretch mark treatment are generally progressive and may require multiple treatments. If you respond to the first treatment, your second treatment will usually be as good as the first, and the third treatment will be almost as good. About 70% of patients receiving laser treatments for their stretch marks notice a marked improvement.

Newer and shallower stretch marks and scars respond better than older and deeper scars and stretch marks. To enhance the results of your laser treatments your surgeon may recommend the use of tretinoin cream or a glycolic acid cream prior to and after your laser treatments.


Q.

Do laser scar and stretch mark treatments hurt ?



Most patients do not require anesthetic. Some patients have indicated that they feel a slight tingling when the laser pulses, or that the laser pulse feels like the snap of a rubber band against the skin.


Q.

Are there any possible side effects ?



Side effects are rare. You may experience some slight reddening or local swelling at the treatment site, but this typically goes away within hours. On rare occasions, some blistering or bruising may occur, but typically resolves quickly. The skin may also become lighter or darker following treatment, but will generally return to normal within a few weeks. Limiting sun exposure before and after treatments will minimize risk of complications.





For more information, medical assessment and medical quote send your detailed medical history and medical reports
as email attachment to
Email : - info@wecareindia.com
Call: +91 9029304141 (10 am. To 8 pm. IST)
(Only for international patients seeking treatment in India)