Overview
Mosaicplasty Surgery in India
Mosaicplasty (osteochondral autograft, cartilaginous bone graft transfer)

Widely known and accepted technique for focal chondral lesion and is often referred to as "mosaic" plasty (Hangody et al.), where small cylinders of the non weight bearing carilage surface is removed and transferred to the site of cartilage lesion.

Small and medium sized lesions might be treated by mosaicplasty. The main rational is that certain areas of the cartilage in the knee are non-weight bearing thus can be removed and transferred to the site of the lesion. As all cylinders consist of bony and cartilaginous part, the bony part would heal and fuse to the adjacent bony receiver site, and the cartilaginous cover of the joint will be smooth and intact after6-12 months.

It has a major advantage to bone marrow stimulation as the histology of the repair site is hyaline cartilage rather than fibrocarilage. The drawback in this technique is that the cylinders must be removed from the intact joint and some donor site morbidity may occur. Furthermore the size of the non weight bearing area restricts the size of lesion that can be repaired.

Postoperatively strict rehab protocol is to be followed with physiotherapist's supervision. Six weeks of partial weight bearing is recommended and the full recovery is expected about 6 months after the surgery.



Related pictures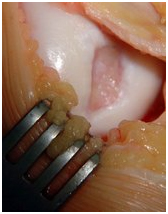 [ Cartilage defect of the knee joint ]
[ Donor site after removal of grafts ]
[ Grafts ready to be implanted ]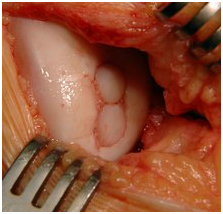 [ Mosaic plugs in place ]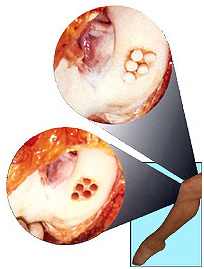 [ A Breakthrough Technique in Autogenous Osteochondral Grafting (AOCG) ]



MosaicPlasty is the result of more than a decade of animal and clinical experience, and refinements in surgical technique and instrumentation. In clinical use since 1992, MosaicPlasty has been shown to be an efficacious. reproducible and cost-effective means of restoring chondral defects. MosaicPlasty is indicated for the treatment of focal, full thickness, cartilage lesions of up to 9 cm2 in the knee and ankle. (Figure 1a).


| | | |
| --- | --- | --- |
| | | |
| [ Figure 1a: Osteochonditis dissecans of the medial femoral condyle. ] | [ Figure 1b: defect site after filling with ten 4.5mm plugs. ] | [ Figure 1c: Five-year follow-up arthroscopy of previous open MosaicPlasty (Figure 1b). ] |
The MosaicPlasty Procedure : -

In a MosaicPlasty, small, cylindrical, autologous osteochondral grafts are taken from non-weight bearing areas of the femoral periphery at the patellofemoral joint. The graft are inserted into holes drilled at the site of the chondral defect, filling it with 60-80% transplanted hyaline cartilage (Figure 1b).

The specially developed MosaicPlasty technique ensures protection of the hyaline cartilage throughout the procedure. Fibrocartilage "grouting", growing upward from the prepared, cancellous bed, seals the interface between the grafts and the use of smaller, rather than larger, grafts in this procedure creates a smoother condylar contour (Figure 1c)



Long-term Animal and clinical studies

MosaicPlasty animal and clinical studies have been completed using grafts of 4.5mm or less in diameter and of 15mm (for cartilage defects) in length.

Hangody et al performed a MosaicPlasty in 152 patients with defects ranging in size from 1.0 to 8.5 cm2 : -
57 of 60 patients who were operated on three to five years ago were available for follow-up
62% had condylar cartilage defects; 26% had an osteochondral defect; 12% had condromalasia patellae.
An average of eight grafts were used to create the MosaicPlasty.
Average non-weight bearing time was six to eight weeks.
Average modified HSS score value was 90.7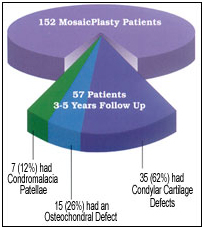 The list of of Orthopedic Surgery in India is as follows : -
| | |
| --- | --- |
| | Apollo Hospitals, Bangalore, India |
| | Apollo Hospital, Chennai, India |
| | Apollo Hospitals, Hyderabad, India |
| | Indraprastha Apollo Hospital, Delhi, India |
| | Apollo Gleneagles Hospital, Kolkata, India |
| | Apollo Hospital, Goa, India |
| | Wockhardt Hospital, Bangalore India |
| | Wockhardt Hospital, Mumbai, India |
| | Fortis Hospital, Delhi, India |
| | Fortis Hospital, Mohali, India |
| | Fortis Hospital, Noida, India |
| | Manipal Hospital, Bangalore, India |
| | MIOT Hospital, Chennai, India |
| | Sparsh Hospital, Bangalore, India |
| | Sparsh Hospital, Bangalore, India |
| | Artemis Hospital, Gurgaon ( Delhi ) , India |
| | Max Devki Devi Heart and Vascular hospital, Delhi, India |
| | BGS Global Hospital, Bangalore, India |
| | BGS Global Hospital, Chennai, India |
| | BGS Global Hospital, Hyderabad, India |

For more information, medical assessment and medical quote send your detailed medical history and medical reports
as email attachment to
Email : - info@wecareindia.com
Call: +91 9029304141 (10 am. To 8 pm. IST)
(Only for international patients seeking treatment in India)
For a detailed evaluation send patientís medical reports / X rays / doctors notes to info@wecareindia.com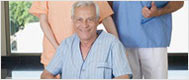 Patient Storys
Successful heart surgery at We Care India partner hospital allows Robert Clarke to live a normal life despite a rare genetic disorder We Care india helped Robert find best super specialised surgeon for his rare conditions.

Read : Robert's Story
See All : Patient's Success Stories


Related Link
Group Websites
Find us on