Brow and Forehead Lift Cosmetic Surgery in India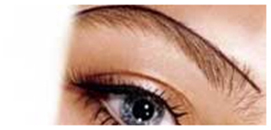 Brow lift (forehead lift) is a plastic surgery procedure which will raise your eyebrows to a higher and more aesthetic position. It will also improve lateral hoods (which are the droopy flaps of skin that hang over the outside corner of your eyes. Plastic surgery of your forehead will also soften your horizontal forehead wrinkles and the scowl lines between your eyebrows. A brow lift will NOT improve baggy eyelids, puffy eyes, or crows feet. Consider eyelid surgery or wrinkle treatments for these problems.

Scars from a Brow Lift May be on top of the head or in front of the hairline, depending on the technique chosen (see Brow Lift Options below).


Q.

Who is a candidate for brow lift surgery ?



Someone who has : -
low or sagging eyebrows that may result in a tired or sad appearance.
eyebrows low enough to cause redundant tissue of the upper eyelids (this hooding of eyelid skin can sometimes interfere with raising the upper eyelids.
deep horizontal creases in the forehead.
frown lines or vertical furrows between the eyebrows or across the top of the nose which may make you look angry and upset.

Brow lift surgery can help all of these problems. Any one or a combination of these problems can mean that brow lift surgery should be considered. It sometimes is done in conjunction with facelift surgery (rhytidectomy) and or eyelid surgery (blepharoplasty). Those who are bald, have a receding hairline, or prior upper eyelid surgery may still be good candidates. Surgical options depend on scars and other factors. Remember, a brow lift can enhance your appearance and self confidence. It is surgical sculpture and has its limitations. The surgery will not cause people to treat you differently. If you have unrealistic expectations, you will not be happy.

To see what a forehead lift may offer, stand in front of a mirror. Place your hands on the outer edges of the eyes above the brows. Gently pull the skin up to raise the eye brows and forehead. This is a rough approximation of what a brow lift has to offer.



Brow Lift Options

Brow lift may be performed in several ways. There are three commonly used techniques (Hint: if your surgeon suggests a technique which is not similar to one of these, then go elsewhere).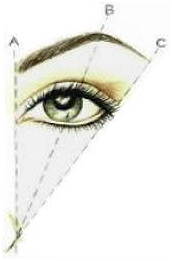 The options are : -
Coronal forehead lift : -



It involves an incision across the top of your head, from ear to ear. Through this incision, your surgeon can alter the muscles (frontalis, procerus, and corrugators) that cause horizontal forehead wrinkles and scowling. After doing this, your surgeon will actually remove about a 1-2 cm strip of your scalp and sew the remaining scalp together.

Although this may sound gruesome, it is the oldest and most reliable technique in brow lift surgery. The main disadvantage is that you will be numb on the top of your head for about six months, after which time the sensation usually returns. This technique also raises your hairline, which can be a problem for those with a high forehead who also wear their hair back. The advantages of this technique are that it is lasting (it will not have to be repeated as you age, with very rare exceptions).

Also the scars are concealed behind the hairline and are not seen after they heal (unless you are a man with a receding hairline, in which case you should not have this kind of brow lift).




Endoscopic forehead lift : -



It involves four to six short (one inch) incisions behind your hairline. Through these small incisions, your plastic surgeon inserts and endoscope which has a tiny camera on the end. This allows her or him to see under your skin without making a long incision across the top of your head. Through this technique, your plastic surgeon will be able to do most of the things that can be accomplished through a coronal lift with a few notable exceptions. Your plastic surgeon will be able to weaken the scowl-causing muscles but will not be able to directly alter the muscle that causes horizontal wrinkles.

Also, your plastic surgeon can lift your forehead, but does not remove the excess scalp. She (or he) merely shifts it upward and backward on your skull. To secure your scalp into its new position, your plastic surgeon may drill small hole into your skull and place tiny screws (which later are removed or which are absorbed by your body). Even with these screws, because excess scalp is not removed, there exists greater potential for your forehead and brows to droop after an endoscopic lift. (Relapse is most common in those with very droopy brows and very deep creases.)


Because endo lifts have only been performed since 1995, no one knows exactly how long the results last. Finally, endo lifts, like coronal lifts, raise your hairline, but (unlike coronal lifts) they do not cause temporary numbness on top of your head.




Subcutaneous forehead lifts : -



This are the least commonly performed of all brow lifts. In this technique, your plastic surgeon makes an incision across the top of your forehead, where your hairline begins. All of the muscle alterations that are performed through a coronal lift are possible through this operation. Also, your excess skin is removed. Because the incision is in front of the hairline, your hairline will not be moved higher (unlike the other two techniques).

Also, you will not have numbness on top of your scalp. The major disadvantage of this technique is that it leaves a scar across the top of your forehead, which can be highly visible (see brow lift photos). To conceal your scar, you will need to wear your hair forward. If you are wearing your hair forward, then it doesn't matter as much how high your hairline is because your hairline will not be visible. Hence, you could have had a coronal lift or endo lift in the first place.
Procedural Steps

Q.

What happens during brow lift surgery ?





Step 1 - Anesthesia : -



Medications are administered for your comfort during the surgical procedure. The choices include intravenous sedation and general anesthesia. Your doctor will recommend the best choice for you.




Step 2 - The incision : -



A brow lift may sometimes be performed using an endoscope (surgical video device) and special instruments placed through small incisions made within the hairline. This allows the tissue and muscle beneath the skin to be repositioned, altered or removed, correcting the source of visible creases and furrows in the forehead.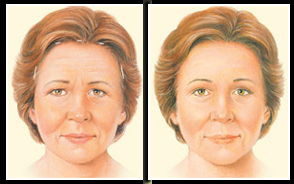 Correction of a low-positioned or sagging brow may be made with or without the use of an endoscope through incisions at the temples and in the scalp.

This technique may be done in conjunction with incisions hidden within the natural crease of the upper eyelids to eliminate frown lines between the brows, on or above the bridge of the nose. An alternative brow lift technique is the coronal brow lift. The coronal brow lift can pinpoint specific regions of the brow to correct.

This technique involves an incision from ear to ear, lifting the forehead and removing excess skin from the scalp. Recovery time is often longer than the endoscopic brow lift due to the size of the incision. The incision lines from a brow lift are well concealed within the hair or natural contours of the face unless they are placed at the hairline to shorten the forehead.

Results appear gradually as swelling and bruising subside to reveal smoother forehead skin and a more youthful, restful appearance.




Step 3 - Closing the incisions : -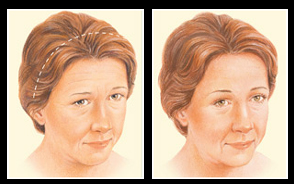 Brow lift incisions typically are closed with : -
Removable or absorbable sutures
Skin adhesives
Surgical tape
Special clips
Step 4 - See the results : -
Brow elevation may be maintained by the use of : -
Permanent sutures
Small surgical screws
Absorbable fixation device placed inconspicuously at the temples
All surgery carries some uncertainty and risks

Complications are rare and usually minor in brow lift surgery. The nerves that control eyebrow motion can be rarely injured on one or both sides resulting in inability to wrinkle the forehead or rise the eyebrows. Although usually temporary the loss may last for months or be permanent.

Broad unsightly scars are rare. Surgical revision may improve such scars. Hair loss may occur in some patients near the scar. Lost sensation along or below the incision line is common but usually only temporary. The classic coronal brow lift has a greater chance for such loss with its longer incision. Sensation loss can be permanent.



Recovery

As with the surgery itself, pain associated with the recovery of any method of brow lift is often reported as minimal. However, depending on the method chosen by the patient and surgeon, discomfort levels and recovery time may vary. With the endoscopic brow lift, most patients report feeling comfortable returning to work within five days. Patients undergoing a coronal brow lift often report tolerating light physical activities within ten days. Comfort levels associated with resuming work and public activities are more likely to be determined by physical appearance, rather than physical discomfort.

A compression bandage, similar to an elasticized headband may be worn around the treatment site for a period of four to seven days. The length of time may vary depending on surgeon preference. The compression bandage helps prevent formation of bruising, limit swelling, and prevent bacteria from entering the incisions.

Swelling is often present and at its greatest during the first 3 to 4 days post operatively, after which swelling gradually diminishes over the course of the following 2 to 3 weeks. Itching may also be present. In most cases, this is a positive sign of returning blood supply and circulation.

Any non-dissolvable sutures will be removed between 5 to 7 days following surgery, with the exception of permanent sutures or screws which may have been employed to extend the longevity of the surgical benefits.

A small amount of hair loss at the incision sites is to be expected due to the absence or loss of hair follicles in resulting scar tissue. Where the incisions disrupt blood supply, temporary hair loss may occur during the first 3 months to 1 year after the procedure. As the blood vessels regenerate and grow, renewed circulation to the hair follicles will encourage new hair production.

Numbness across the scalp may be experienced immediately following browlift surgery. This numbness may persist for up to nine months, or a year. In some cases, a small degree of numbness may persist indefinitely. Most patients find the small amount of desensitization worth the cosmetic benefits provided by coronoplasty.




When you go home ?



If you experience shortness of breath, chest pains, or unusual heart beats, seek medical attention immediately. Should any of these complications occur, you may require hospitalization and additional treatment. The practice of medicine and surgery is not an exact science. Although good results are expected, there is no guarantee. In some situations, it may not be possible to achieve optimal results with a single surgical procedure. Another surgery may be necessary.




What can be expected from a Brow Lift ?



After the surgery, your face will look renewed and fresh. You will also look relaxed and younger. The newly acquired arch of the eyebrows on your smooth forehead will give you a very pleasant look.




What cannot be expected from a Brow Lift ?



It does not reduce crow's feet. It cannot be expected from the Brow Lift surgery to correct lax or hanging eyelids; in that case, you may try with a blefaroplasty.




The list of of Cosmetic Surgery Hospitals and Centres in India is as follows : -
| | |
| --- | --- |
| | Apollo Hospitals, Bangalore, India |
| | Apollo Hospital, Chennai, India |
| | Apollo Hospitals, Hyderabad, India |
| | Indraprastha Apollo Hospital, Delhi, India |
| | Apollo Hospital, Goa, India |
| | Fortis Hospital, Delhi, India |
| | Artemis Hospital, Gurgaon ( Delhi ) , India |
| | Max Devki Devi Heart and Vascular hospital, Delhi, India |
| | BGS Global Hospital, Bangalore, India |
| | BGS Global Hospital, Hyderabad, India |

For more information, medical assessment and medical quote send your detailed medical history and medical reports
as email attachment to
Email : - info@wecareindia.com
Call: +91 9029304141 (10 am. To 8 pm. IST)
(Only for international patients seeking treatment in India)
For a detailed evaluation send patientís medical reports / X rays / doctors notes to info@wecareindia.com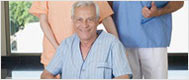 Patient Storys
Successful heart surgery at We Care India partner hospital allows Robert Clarke to live a normal life despite a rare genetic disorder We Care india helped Robert find best super specialised surgeon for his rare conditions.

Read : Robert's Story
See All : Patient's Success Stories


Related Link
Group Websites
Find us on