Overview
Internal Jugular Vein Thrombosis

Thrombosis of the internal jugular (IJ) vein is an underdiagnosed condition that may occur as a complication of head and neck infections, surgery, central venous access, local malignancy, polycythemia, hyperhomocysteinemia, neck massage, and intravenous drug abuse. It is also reported to occur spontaneously. IJ thrombosis itself can have serious potentially life-threatening complications that include systemic sepsis, chylothorax, papilledema, airway edema, and pulmonary embolism. The diagnosis often is very challenging and requires, first and foremost, a high degree of clinical suspicion.



Problem

IJ vein thrombosis refers to an intraluminal thrombus occurring anywhere from the intracranial IJ vein to the junction of the IJ and the subclavian vein to form the brachiocephalic vein.

The thrombosis may become secondarily infected, producing a septic thrombophlebitis. An infected IJ thrombus caused by extension of an oropharyngeal infection is referred to as Lemierre syndrome. This has also been termed necrobacillosis or postanginal septicemia.



Risk Factors

Thrombosis associated with central venous catheters occurs more frequently than previously believed. One study found that 66% of patients who had an IJ vein catheter in place at some time during their hospital course had either ultrasonographic or autopsy evidence of IJ thrombus. The frequency was even greater in more critically ill patients, especially those with low cardiac output or shock syndromes.


The causes of IJ thrombosis include the following : -
Central venous or Swan : - Ganz catheters in the IJ vein
Central venous or Swan: - Ganz catheters in the subclavian vein
Individuals who abuse intravenous drugs using the IJ vein for access
Lemierre syndrome
Deep neck infections
Necrotizing soft tissue infections
Neck dissection surgery complication
Head and neck malignancy
Distant malignancy producing hypercoagulable state
Hypercoagulable state secondary to factor V Leiden, protein C, protein S, or antithrombin III deficiency
Jugular bulb catheters
Any neck surgery involving prolonged retraction of the IJ vein
Trauma
Association with ovulation induction with gonadotropins
Hyperhomocysteinemia
Neck massage
Polycythemia
Spontaneous causes : - Often secondary to undiagnosed malignancy or hypercoagulable state
Signs and Symptoms

The symptoms and signs of IJ thrombosis can often be very subtle, making it easy to overlook the diagnosis. Pain and swelling at the angle of the jaw and a palpable cord beneath the sternocleidomastoid muscle both may be absent in a significant minority of patients. Once infection has set in, other objective findings may be found. Tovi et al described the following clinical manifestations in their 1991 series of patients with septic IJ thrombosis as follows:2


Clinical manifestations of IJ thrombosis occur in the following percentages of patients : -
Fever - 83% of patients
Leukocytosis - 78% of patients
Cervical pain - 66% of patients
Mass or neck swelling - 72% of patients
Cord sign - 39% of patients
Sepsis syndrome - 39% of patients
Pleuropulmonary complications - 28% of patients
Superior vena cava syndrome - 11% of patients
Chylothorax - 5% of patients
Jugular foramen syndrome - 6% of patients
Increased intracranial pressure with symptoms that include headache, visual disturbances, and altered sensorium - rare3
Indications

Rare indications for a superior vena cava filter are similar to those of deep venous thrombosis in the lower extremity when an upper extremity deep vein thrombosis is associated with an internal jugular thrombosis. These include a clinical setting of pulmonary embolism in which therapeutic anticoagulation has failed or is contraindicated.



Imaging Studies
In the past, the criterion standard for confirming a diagnosis was contrast venography.
Venography has a number of drawbacks, including exposure to contrast dye and potential dislodgement of clot, with subsequent pulmonary embolism.
Ultrasonography
Ultrasonography is a safe, noninvasive, portable, and widely available test that is the test of choice for many with IJ thrombosis. Ultrasonographic findings include a dilated and incompressible vein, intraluminal clot (a late finding), and no response to the Valsalva maneuver (expected change in intraluminal volume secondary to enhanced venous return).
Ultrasonography provides very poor images beneath the clavicle and under the mandible.
Doppler ultrasonography may be useful for detecting flow changes secondary to thrombus during the acute phase of clot formation.
Contrast-enhanced CT scanning
CT scanning with intravenous contrast is considered by some to be the study of choice for suspected IJ thrombosis.
CT scan findings include low-density intraluminal thrombus, a sharply defined bright vessel wall (because of contrast uptake by the vasa vasorum), soft tissue swelling surrounding the IJ vein, and a distended IJ vein proximal to the thrombus.
MRI
MRI provides greater soft tissue contrast and sensitivity to blood flow rates when compared to CT scanning.
It does not require exposure to intravenous contrast or radiation. The examination is usually performed in a distant hospital location, making it difficult and inconvenient in critically ill patients.
Nuclear medicine scanning
Tests such as gallium-67 studies have unacceptably high false-positive rates, especially in patients with active malignancies.
Study times often are long, and the testing must be performed in the nuclear medicine area, both of which are distinct disadvantages for critically ill patients.
Treatment
Surgical Therapy

Uncomplicated cases of IJ thrombosis seldom require surgical intervention. However, cases associated with deep neck infections require drainage of any fluid collections and debridement of all infected tissue. Likewise, cervical necrotizing fasciitis requires extensive and complete debridement.

Cases of intraluminal abscesses may require excision of the IJ vein in order to prevent subsequent serious complications. However, most cases of postanginal sepsis can be managed medically, without the need for resection of the infected vein. Cases that do not respond to antibiotic therapy are unusual, and, importantly, remember that fever may persist for some time, especially in cases of metastatic infection.

The carotid sheath often protects the carotid artery. However, if it becomes involved, early and prompt surgical intervention is required to prevent devastating neurologic or airway complications.

Indications for a superior vena cava (SVC) Greenfield filter are rare. No reports demonstrate the use of a SVC filter for an isolated IJ thrombosis. Indications for a superior vena caval filter with axillary/subclavian vein thrombosis are similar to those of deep venous thrombosis in the lower extremity. These include upper extremity deep vein thrombosis that extended to the IJ. Therefore, in the clinical setting of an axillary/subclavian vein thrombosis alone or combined with an IJ thrombus with a pulmonary embolism in which therapeutic anticoagulation has failed or is contraindicated, a SVC filter should be inserted.



Preoperative Details

Superior vena cavograms are obtained in all patients prior to filter placement to determine caval size and to exclude venous abnormalities and SVC thrombus.4



Intraoperative Details

Whenever possible, the filters are placed via the right common femoral vein. Filter placement in the SVC is more difficult than in the inferior vena cava (IVC) secondary to the relatively small area for appropriate filter placement. For femoral insertion of the SVC filter, a jugular insertion kit is used for correct filter orientation. For jugular vein insertion, a femoral insertion kit is used.



Postoperative Details
A chest radiography should be obtained to access for filter migration, dislodgement, or fracture.



Follow-up
For excellent patient education resources, visit eMedicine's Lung and Airway Center and Circulatory Problems Center. Also, see eMedicine's patient education articles Pulmonary Embolism, Venous Access Devices, Phlebitis, and Blood Clot in the Legs.


Complications
Once a diagnosis of internal jugular (IJ) thrombosis is made, be vigilant for the following complications : -
Pulmonary embolism
Subclavian vein thrombosis
Superior sagittal sinus thrombosis
Superior vena cava syndrome
Pseudotumor cerebri
Laryngeal and lower airway edema
Infected thrombophlebitis, which has the following complications : -
Systemic sepsis syndrome
Septic emboli to lungs, liver, spleen, brain, skin, muscle, and bone marrow
Empyema
Septic arthritis
Renal failure
Hepatic dysfunction
Cerebral edema
The list of of Vascular Surgery Hospitals in India is as follows : -
| | |
| --- | --- |
| | Apollo Hospitals, Bangalore, India |
| | Apollo Hospital, Chennai, India |
| | Apollo Hospitals, Hyderabad, India |
| | Indraprastha Apollo Hospital, Delhi, India |
| | Apollo Gleneagles Hospital, Kolkata, India |
| | Apollo Hospital, Goa, India |
| | Wockhardt Hospital, Bangalore India |
| | Wockhardt Hospital, hyderabad, India |
| | Wockhardt Hospital, Mumbai, India |
| | Fortis Hospital, Delhi, India |
| | Fortis Hospital, Mohali, India |
| | Fortis Hospital, Noida, India |
| | Escorts Heart Institute Hospital, Delhi, India |
| | Manipal Hospital, Bangalore, India |
| | MIOT Hospital, Chennai, India |
| | Narayana Hrudayalaya Heart Hospital, Bangalore, India |
| | Artemis Hospital, Gurgaon ( Delhi ) , India |
| | Max Devki Devi Heart and Vascular hospital, Delhi, India |
| | Max Super Specialty hospital, Delhi, India |
| | BGS Global Hospital, Bangalore, India |
| | BGS Global Hospital, Chennai, India |
| | BGS Global Hospital, Hyderabad, India |

For more information, medical assessment and medical quote send your detailed medical history and medical reports
as email attachment to
Email : - info@wecareindia.com
Call: +91 9029304141 (10 am. To 8 pm. IST)
(Only for international patients seeking treatment in India)
For a detailed evaluation send patientís medical reports / X rays / doctors notes to info@wecareindia.com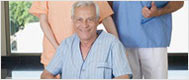 Patient Storys
Successful heart surgery at We Care India partner hospital allows Robert Clarke to live a normal life despite a rare genetic disorder We Care india helped Robert find best super specialised surgeon for his rare conditions.

Read : Robert's Story
See All : Patient's Success Stories


Related Link
Group Websites
Find us on