Slipped Disc

The discs are protective shock-absorbing pads between the bones of the spine. Although they do not actually "slip" a disc may split or rupture. This can cause the disc to fail, allowing the gel to escape into the surrounding tissue. The leaking jellylike substance can place pressure on the spinal cord or on a single nerve fiber and cause pain either around the damaged disc or anywhere along the area controlled by that nerve. This condition is also known as a herniated, ruptured, prolapsed, or, more commonly, slipped disc.

The most frequently affected area is the low back, but any disc can rupture, including those in the neck.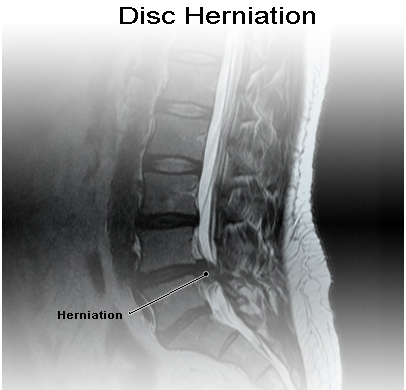 [ Herniated Disc between L4 and L5 ]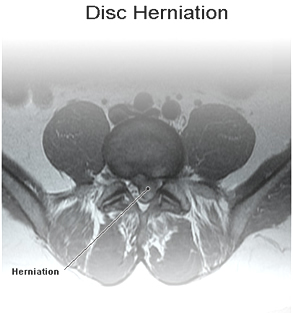 [ Cross-Section of Herniated Disc between L4 and L5 ]
[ Stapled Incision Post - Surgery ]

Slipped Disc Causes

Factors that lead to injury from a slipped disc include aging with associated degeneration and loss of elasticity of the discs and supporting structures; improper lifting, especially if accompanied by twisting or turning; and excessive strain. Sudden forceful trauma is a more rare cause.



Slipped Disc Symptoms

The nerves of the body exit the spine at each spinal level. A herniated disc can therefore produce symptoms anywhere along the course of that nerve, though the injury and irritation of the nerve are at the spine itself (this is known as referred pain). A slipped disc can produce varying degrees of pain in the back or neck along with numbness or weakness.


For slipped discs in the neck - Numbness, tingling, weakness, or pain in the shoulder, neck, arm, or hand.
For slipped discs in the lower back.
Numbness, tingling, weakness, or pain in the buttocks, back, legs, or feet.
Numbness and tingling around the anus or genitals.
Pain down the back of each leg from the buttocks to the knee (this is called sciatica).
Pain with movement, straining, coughing, or doing leg raises.
Difficulty controlling bowel movements or bladder function.

When to Seek Medical Care

You should consult with your doctor for any back pain significant enough to limit activity, any back pain that lasts more than a few days, or any back pain associated with numbness or weakness, loss of bladder or bowel control, fever, or abdominal or chest pain. The doctor may suggest an urgent office evaluation or may advise you to go to the hospital's emergency department for evaluation.

Any injury that may suggest more significant back or neck problems, such as a fall from a height or a direct blow to the spine, should be evaluated at the hospital's emergency department. Consider calling 911 for an ambulance. Medical teams can immobilize the spine and protect against further damage.

You should also seek emergency evaluation if the pain or symptoms are severe enough to prevent you from walking, are associated with severe numbness or weakness of any extremity, are associated with loss of bowel or bladder control, or are associated symptoms not readily explained by the spine problem (such as fever, abdominal pain, or chest pain).



Exams and Tests

The doctor will take a complete medical history and perform a physical examination.
This history should include other illnesses, prior spine problems, any injuries, duration and type of symptoms, and response to treatments. The examination should include a spine examination, testing of basic nerve functions, an abdominal examination, and a general screening.

Often no diagnostic tests are needed for adequate treatment. In certain cases, imaging studies or laboratory tests of blood and urine may provide your doctor further information necessary to establish an adequate diagnosis. If needed at all, they may not be necessary immediately. Sometimes they are ordered later if basic treatments fail to improve your condition.

If imaging studies are taken, they are often one of the following:
Plain x-rays (and even CT scans) cannot depict a prolapsed disc and can only identify bony abnormalities. These x-rays are best used to evaluate back pain that is from causes other than a prolapsed disc, such as bony displacement, tumor, or broken bone. Most young or middle-aged people without a history to suggest trauma or tumor are best served without the expense and radiation associated with obtaining these x-rays. In most cases, the bones seen on x-ray are normal.

More specialized tests include an MRI or myelogram (which includes injecting dye into the spinal column) of the back. These are better for diagnosing a prolapsed disc and the way the specific nerve is affected. In the absence of signs or symptoms suggesting severe nerve damage, however, these studies are very rarely indicated or ordered early in the course of the evaluation. This is because of cost, availability of the test, and the fact that the findings rarely affect initial treatment decisions. Your doctor may obtain these tests after a course of treatment fails to provide you relief.

Bone scans can detect infection, healing fractures, or tumors. This test is essentially never ordered as part of an emergency evaluation and generally needs to be arranged by your doctor in advance.



Slipped Disc Treatment



Self-Care at Home : -

Minor cases can be handled at home in consultation with your doctor. Treatment will likely include application of hot or cold packs, limited activity (although strict bed rest is not generally advised), and basic pain relievers such as acetaminophen (Tylenol) or ibuprofen (Advil, Motrin). As your condition improves, specific back stretching or strengthening exercises may be suggested.



Medical Treatment : -

The doctor often prescribes bed rest or limited activity for several days followed by gradual increase in activity over the next few weeks. Strict bed rest is generally no longer advised because people with back pain have been shown to recover more quickly with normal activity as long as lifting, bending, and strain are limited.

Treat with ice or cold packs early after an injury and switch to heat later. Heat may be used early if the pain and symptoms are not caused by a sudden injury.

Physical therapy, exercise, and massage can be helpful if indicated (always check with your doctor before resuming any stressful activity).



Surgery : -

If these measures are not successful within a reasonable time and the tests confirm a herniated disc as the source of symptoms, surgery may be considered. Except in extreme cases or in those that have a high potential for permanent nerve damage, surgery is no longer considered early in a case. Often, time and basic spine care resolve most cases. Several surgical options exist. Your doctor will refer you to a spine specialist to discuss which option is best for you and what the likelihood of success will be.





The list of of world class Spine hospitals in India is as follows : -
| | |
| --- | --- |
| | Apollo Hospital, Chennai, India |
| | Indraprastha Apollo Hospital, Delhi, India |
| | Apollo Hospitals, Bangalore, India |
| | Apollo Hospitals, Hyderabad, India |
| | Wockhardt Hospital, Bangalore India |
| | Fortis Hospital, Delhi, India |
| | Fortis Hospital, Mohali, India |
| | Sparsh Hospital, Bangalore, India |
| | Artemis Hospital, Gurgaon ( Delhi ) , India |
| | Max Super Specialty hospital, Delhi, India |
| | BGS Global Hospital, Bangalore, India |
| | BGS Global Hospital, Chennai, India |
| | BGS Global Hospital, Hyderabad, India |

For more information, medical assessment and medical quote send your detailed medical history and medical reports
as email attachment to
Email : - info@wecareindia.com
Call: +91 9029304141 (10 am. To 8 pm. IST)
(Only for international patients seeking treatment in India)
For a detailed evaluation send patientís medical reports / X rays / doctors notes to info@wecareindia.com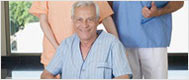 Patient Storys
Successful heart surgery at We Care India partner hospital allows Robert Clarke to live a normal life despite a rare genetic disorder We Care india helped Robert find best super specialised surgeon for his rare conditions.

Read : Robert's Story
See All : Patient's Success Stories


Related Link
Group Websites
Find us on