Myelopathy
Cervical Stenosis and Myelopathy
Symptoms
Tests for Diagnosis
Treatment
Prognosis
Cervical Myelopathy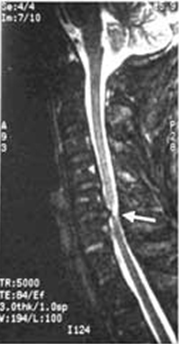 Figure 1 : - Narrowing of spinal canal and compression of the spinal cord due to a herniated disc. Cervical stenosis is the narrowing of the spinal canal in the neck region and can occur from several causes, among them disc herniation and degenerative disc disease, or spondylosis. With advanced stenosis, nerve root and spinal cord compression can occur, with symptoms varying from mild to very serious. One nerve root (monoradiculopathy) or several roots (polyradiculopathy) may be affected. When compression results in damage to the spinal cord, it is termed myelopathy (see below) (Figure 1).


Cervical spinal stenosis can develop from congenital pathology (the patient is born with a narrow spinal canal). This setting leaves the spinal cord vulnerable to compression from acquired degenerative disease processes or degenerative disease in which bony overgrowth and disc degeneration (herniation) further narrow the spinal canal over time.



Symptoms

Symptoms from cervical spinal stenosis without spinal cord compression are usually limited to neck pain and symptoms from nerve root compression. They include sensory changes of tingling, numbness, and paresthesias in the upper extremity. These symptoms can overlap with those of developing cervical myelopathy (see below) and can include a gradual progression of clumsiness, weakness, or numbness in the hands or fingers.



Cervical Myelopathy

Dysfunction of the spinal cord is termed myelopathy. The dysfunction can result from many sources including cervical stenosis and herniated discs (see above). Spinal cord injury that is painless suggests a process going on within the spinal cord itself, such as multiple sclerosis, tumor, infection, or vitamin deficiency. Pain is present when the nerves and membrane outside the spinal cord are injured as with disc disease of the spine, arthritis, fractures, or tumors developing outside the spinal cord. Regardless of the precise form of damage, the spinal cord responds in a characteristic way, producing weakness in the limbs (legs, or legs in combination with arms), tightness or spasticity of movement, altered sensation, and even incontinence. The physician's examination may confirm these observations and may document very active reflexes as well.

Discovering the cause of the spinal cord problem is important because early correction, when possible, salvages spinal cord function and may permit recovery, fully or partially. Prolonged pressure on the spinal cord may result in permanent injury and disability.



Tests for Diagnosis

Physical examination for cervical stenosis will include a neurological exam and testing of your reflexes as well as a visual examination of your walking (gait). Patients with cervical myelopathy frequently have very strong reflexes (hyperreflexia) and changes in their gait pattern. Your doctor may therefore recommend one or more tests to help him assess your spine and spinal cord. Plain x-rays may be obtained or scanning, either CT or MRI, may be recommended. Less commonly, dye may be injected into the spinal fluid to outline the nerves and spinal cord within the spinal canal, and spinal fluid may be analyzed. This test is called a myelogram and is usually performed in conjunction with CT scanning after the dye injection. Electrical monitoring of spinal cord function may be obtained by using evoked potentials to indicate the region and degree of injury. Once your problem is identified, then you and your doctor may review your treatment options.



Treatment

Nonoperative treatment for cervical stenosis includes immobilization, traction, physical therapy (exercises, strength training, massage, mobilization) and physical modalities (ultrasound, electrical stimulation, heat), medications (analgesics, NSAIDs, muscle relaxants, corticosteroids). If symptomatic improvement is not achieved with an aggressive nonoperative treatment program within 6 to 8 weeks, patients are reevaluated and surgical treatment may be considered.

Surgery is the treatment of choice for advanced cervical myelopathy. Types of surgery include decompression of the spinal cord from the back of the spine with removal or repositioning of the spinal laminae (laminectomy or laminoplasty) and decompression of the spinal cord from the front of the spine with removal of the intervertebral discs and possibly the vertebrae themselves comprising the involved segments.



Prognosis

The natural history of cervical stenosis and cervical myelopathy is that of a progressive disease which eventually may lead to severe disabilities if left untreated. Some people have extended periods of relative stability where progression slows or is not apparent. With surgical decompression of the spinal cord, significant improvement in sensation and function can occur, most particularly in the upper extremities. The main goals of surgery, however, are preservation of remaining function and relief of pain.

Factors related to the prognosis of cervical myelopathy change relative to the cause of the myelopathy. Symptomatology caused by soft disc herniation and abnormal vertebral growth (boney ridges) is often similar but develops within different time frames. Surgical treatment for single level decompression of the spinal cord tends to have a better outcome as compared to treatment for multiple vertebral level disease.





The list of of world class Spine hospitals in India is as follows : -
| | |
| --- | --- |
| | Apollo Hospital, Chennai, India |
| | Indraprastha Apollo Hospital, Delhi, India |
| | Apollo Hospitals, Bangalore, India |
| | Apollo Hospitals, Hyderabad, India |
| | Wockhardt Hospital, Bangalore India |
| | Fortis Hospital, Delhi, India |
| | Fortis Hospital, Mohali, India |
| | Sparsh Hospital, Bangalore, India |
| | Artemis Hospital, Gurgaon ( Delhi ) , India |
| | Max Super Specialty hospital, Delhi, India |
| | BGS Global Hospital, Bangalore, India |
| | BGS Global Hospital, Chennai, India |
| | BGS Global Hospital, Hyderabad, India |

For more information, medical assessment and medical quote send your detailed medical history and medical reports
as email attachment to
Email : - info@wecareindia.com
Call: +91 9029304141 (10 am. To 8 pm. IST)
(Only for international patients seeking treatment in India)
For a detailed evaluation send patientís medical reports / X rays / doctors notes to info@wecareindia.com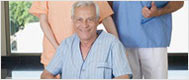 Patient Storys
Successful heart surgery at We Care India partner hospital allows Robert Clarke to live a normal life despite a rare genetic disorder We Care india helped Robert find best super specialised surgeon for his rare conditions.

Read : Robert's Story
See All : Patient's Success Stories


Related Link
Group Websites
Find us on