Microdermabrasion

Your skin is exposed to environmental elements every day. Over the years, the sun's rays, pollution, and other damaging agents can take a toll on your skin. Microdermabrasion treatment can help reduce or eliminate the wrinkles and fine lines, "crow's feet," age spots, light acne scars, and undesired pigmentation that may appear on the skin over time.


Q.

What Is Microdermabrasion ?



Microderm abrasion is a skin resurfacing treatment that works by gently abrading the top layer of the skin with the help of micro aluminium oxide crystals or diamond tipped wand, leaving a new, fresh layer underneath. It is a non-invasive, non-surgical cosmetic procedure which can be performed at home, in beauty salons, spas and medical or dermatological offices.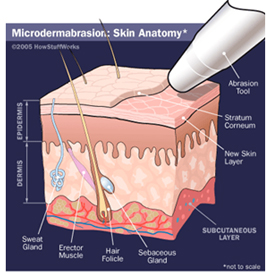 Q.

Am I a Ideal candidate for Microdermabrasion ?




In general, the best candidates for microdermabrasion are people who are:
In good physical health
Psychologically stable
Unable to take time out of their schedule to recover from more powerful resurfacing procedures (such as chemical peels, laser resurfacing, and dermabrasion).
Non-smokers
Wanting to look younger and more refreshed
Well informed in regard to the procedure's outcome
Realistic in their expectations

The above is only a partial list of the criteria that your surgeon will consider in determining whether or not this procedure is appropriate for you. Be sure to ask your surgeon if he / she considers you an ideal candidate for microdermabrasion.


Q.

How Microdermabrasion Works ?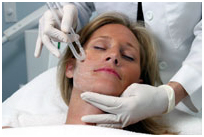 Microdermabrasion uses a powerful device to spray microcrystals of aluminum dioxide (corundum powder) across the skin's surface. The aluminum dioxide is a very fine, very hard, sand-like material that blasts away the uppermost layer of dead skin cells on the skin's epidermis.

Microdermabrasion can be uncomfortable around the sensitive tissue of the mouth and nose, but should not be painful. After the treatment, the technician vacuums away the traces of the corundum powder.

Each treatment takes from 30 minutes to an hour. The number of treatments recommended for maximal results can range between 5 and 12, spaced from 2 to 3 weeks apart. Maintenance of results requires periodic repeat treatments after the initial regimen is completed. Microdermabrasion may be combined with a light chemical peel to increase the effect.



How many sessions will I require

A course of 4 - 10 sessions at regular intervals of 10 - 14 days is recommended depending on the condition being treated and treatments typically last 45 minutes. To obtain optimum results, this treatment may also be used in conjunction with other treatments such as Priori skin peels and Omnilux red & plus light therapy or just as a quick pick-me-up for tired, dull skins.


Q.

What can I expect afterward ?



The speed of the procedure and its recovery time has earned it the name "the lunchtime peel." It can easily be fit into an hour-long lunch break. Immediately after the procedure, women can apply makeup and return to their normal activities. The skin will turn pink immediately afterward, but this color will fade within a few hours.

The results of this treatment are often subtle improvements in texture and the appearance of refreshed-looking skin. Depending on the severity of the problem, the procedure may be repeated to achieve more dramatic results, and create smoother, younger-looking skin.



Recovery

Microdermabrasion is often called a "lunch hour" treatment because it's a quick procedure that can be performed at a doctor's office during your lunch hour with little or no discomfort. The treated skin may be pink after the treatment, but this will usually fade within a few hours. You can apply makeup soon after undergoing microdermabrasion to conceal any visible signs of the treatment. Microdermabrasion recovery and results are among the most favorable of all the noninvasive facial treatments available today.


Q.

Is Microdermabrasion Safe ?



Microabrasion has virtually no risks and no side effects because it is one of the least invasive skin resurfacing procedures. Contraindications, however, do exist. Patients on Accutane for 6 months previously, pregnant and nursing women, people suffering from active herpes lesions, malignant tumors, keratosis, active rosacea or weeping acne should not have microbrasion.


Q.

Is Microdermabrasion Good For Acne ?



According to some dermatological studies, microdermabration is effective on mild acne. On the other hand, acne-prone skin gets easily irritated and may be too sensitive to micro-crystals. Microdermabrasion can, however, get rid of superficial acne scars and red marks.



Benefits
Virtually no side effects.
Gives the skin an overall fresh, healthy-looking glow.
Nonsurgical, safe, effective "lunch hour" procedure.
Effective on all skin colors and types.
No anesthetic required.
Excellent for skin sensitive to chemical procedures.
Normal activities can be resumed immediately.
Side Effects

There are no side-effects to this treatment (which takes about 45 minutes) and no recovery time is required. Mild redness may occur for between 30 minutes and half a day after the procedure, depending on the aggressiveness of the treatment.

We are delighted with this treatment. It is a perfect complement to our Photofacial treatments which uses pulsed light to treat more serious scarring and pigmentation problems to create a really beautiful complexion. The treatment is also complementary to our skin peels. It is already proving extremely popular with our existing clients and is set to become a 'must' for special occasions.



FAQ's

Q.

How long do the results last ?



After the first treatment the skin will have a fresh, radiant glow. Improvement will continue throughout the treatment programme and generally fine lines, wrinkles and age spots become greatly diminished and many patients report that their skin seems to be softer, smoother and younger looking.

Results can be maintained with the correct use of professional homecare products such as Priori Coffeeberry, Advanced AHA or Idebenone skin care ranges and regular maintenance micro skin resurfacing every 4 - 6 weeks.


Q.

What are the benefits of Microdermabrasion over other procedures ?



Microdermabrasion takes less time to do, there is little discomfort and recovery time is relatively quick with no disruption to normal activities. Microdermabrasion is suitable for all skin types. It is a Chemical free treatment.




For more information, medical assessment and medical quote send your detailed medical history and medical reports
as email attachment to
Email : - info@wecareindia.com
Call: +91 9029304141 (10 am. To 8 pm. IST)
(Only for international patients seeking treatment in India)
For a detailed evaluation send patientís medical reports / X rays / doctors notes to info@wecareindia.com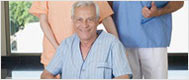 Patient Storys
Successful heart surgery at We Care India partner hospital allows Robert Clarke to live a normal life despite a rare genetic disorder We Care india helped Robert find best super specialised surgeon for his rare conditions.

Read : Robert's Story
See All : Patient's Success Stories


Related Link
Group Websites
Find us on