Overview
Orthopedic Rehabilitation

Individuals who have undergone joint replacement, experienced a musculoskeletal injury, sustained bone trauma or have been diagnosed with a degenerative joint disease often have limited function and mobility, pain and other complications.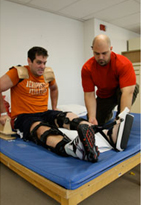 The rehabilitation experts at We Care India Rehabilitation Centre help patients recover the skills and develop the strategies to resume their daily activities.

The We Care India Orthopedic Rehabilitation Program assists patients with any condition of the bones or joints, including those who have undergone orthopedic surgery.




Patients who qualify for treatment may include : -
Bi-lateral joint replacement
Fracture of femur (Hip Fracture)
They may also include the following, if certain conditions are met according to federal guidelines : -
Unilateral joint replacement
Knee & hip replacement same side
Femur (shaft) fracture
Pelvic fracture
Other fractures
The Approach

Studies show that where an individual goes for treatment can make all the difference in his or her recovery. Research also indicates that an early start to rehabilitation can optimize functional gains. Kessler, a specialized acute rehabilitation hospital, is able to provide that early start and delivers a comprehensive program of medical, nursing and therapy care to address the complex needs of each patient.


Our goal-directed approach tailors treatment to help patients : -
restore physical function and enhance the skills needed to perform daily activities
build strength and endurance
improve balance and regain mobility
optimize independence

Our Rehabilitation Team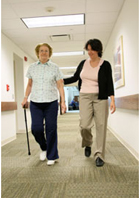 Led by a physiatrist, a board-certified physician who specialized in physical medicine and rehabilitation, We Care India partner centre's interdisciplinary team of musculoskeletal specialists includes : -





Physicians who manage patients' complex medical needs around the clock



Rehabilitation nurses who deliver a compassionate, evidence-based care plan to each patient



Physical and occupational therapists who involve patients in an intensive and comprehensive treatment program for a minimum of three hours daily



Psychologists who address any cognitive, emotional or behavioral issues



Case managers who carefully coordinate the individual's stay and discharge plans
Here you are more than a patient

Our goal is to help you transition from feeling like a patient to a person who can operate independently. We've learned from experience that intense rehabilitation gets patients mobilized faster. This is why, each weekday, patients receive three or more hours of personally supervised therapy-spaced throughout the day at regular intervals.


We offer the following specialized therapies for our orthopedic patients : -
Physical therapy -

Focuses on mobility while reducing pain and improving, strength, balance and coordination.




Occupational therapy -

Addresses activities of daily living such as dressing, bathing and toileting, as well as homemaking skills.




Recreational therapy -

Prepares patients to return to the community and fully participate in life.




Aquatic therapy -

Promotes muscle relaxation, strengthening and improved circulation in a low impact, relaxing environment.

Treatment, Technology & Research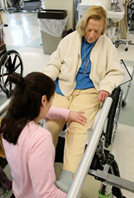 We Care India partner centre, long recognized as a leader in medical rehabilitation, integrates the evidence-based treatment, leading-edge technologies and adaptive techniques to support individual recovery.






Depending on individual needs and goals, patients may benefit from : -
Electrical stimulation
Treadmill training
Assistive equipment and technologies
Advanced pain management, including pharmacological intervention
Optional alternative protocols, such as acupuncture, as appropriate.

In addition, many of our doctors, nurses and therapists are engaged in promising new research studies that will continue to enhance the care and provide new avenues of treatment for individuals with orthopedic and musculoskeletal conditions.



Continuum of Care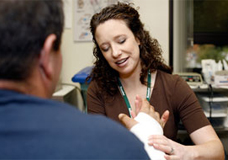 To help individuals successfully transition to life at home, work and in the community, We Care India partner centre delivers an unparalleled continuum of inpatient through outpatient care. Patients participating in our comprehensive outpatient rehabilitation programs continue to reinforce the strengths and skills they have acquired during their stay.

In addition, individuals with sprains, strains, tendonitis, osteoarthritis, osteoporosis and other musculoskeletal conditions benefit from Kessler's comprehensive approach to outpatient care.



Specialized Services

We Care India partner centre provides a wide range of specialized services, including a highly focused approach to spine rehabilitation as well as a hand therapy program and othotics services. Also our renowned Driver Rehabilitation Program helps appropriate individuals to acquire the skills necessary to operate a vehicle safely and enjoy greater independence.



Our Outcomes

Studies demonstrate that patients treated in an acute rehabilitation hospital like We Care India partner centre achieve better outcomes than those in other care settings. On average, Wwe Care India patients have greater improvement during their stay and a higher level of functional independence upon discharge, based on national benchmarks that measure criteria such as locomotion and the ability activities of daily living.







For more information, medical assessment and medical quote send your detailed medical history and medical reports
as email attachment to
Email : - info@wecareindia.com
Call: +91 9029304141 (10 am. To 8 pm. IST)
(Only for international patients seeking treatment in India)
For a detailed evaluation send patientís medical reports / X rays / doctors notes to info@wecareindia.com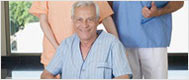 Patient Storys
Successful heart surgery at We Care India partner hospital allows Robert Clarke to live a normal life despite a rare genetic disorder We Care india helped Robert find best super specialised surgeon for his rare conditions.

Read : Robert's Story
See All : Patient's Success Stories


Related Link
Group Websites
Find us on