Parkinson's Disease

Parkinson's disease is a degenerative disease of the nervous system that generally affects both men and women who are more than 40 years old. Normally, these nerve cells make an important chemical called dopamine. Dopamine sends signals to the part of your brain that controls movement. It lets your muscles move smoothly and do what you want them to do. When you have Parkinson's, these nerve cells break down. Then you no longer have enough dopamine, and you have trouble moving the way you want to.



Causes of Parkinson's Disease

The cause of Parkinson's disease is unknown. It is thought that Parkinson's Disease is caused by a chemical imbalance in the co-ordination centre of the brain, known as the striatum. Parkinson's patients suffer from cell death in an area of the brain called the substantia nigra, which produces the chemical dopamine. As the cells die, less dopamine is produced and transported to the striatum, resulting in co-ordination problems. Later in the Disease, Cells In Other Portions Of The Brain And Nervous System Also Degenerate.



Symptoms of Parkinson's Disease

The loss of dopamine production in the brain causes the primary symptoms of Parkinson disease.


The key signs of Parkinson disease are : -
Tremor (shaking)
Slowness of movement
Rigidity (stiffness)
Difficulty with balance

Other signs of Parkinson disease may include: Small, cramped handwriting, stiff facial expression, shuffling walk, muffled speech, depression, difficulty in swallowing, chewing, and speaking; urinary problems or constipation; skin problems; and sleep disruptions Symptoms usually appear when a person is older than 50 and it becomes more common as people get older. Parkinson disease affects both men and women in almost equal numbers. it shows no social, ethnic, economic or geographic boundaries.



Diagnosis of Parkinson's Disease

After a thorough neurological exam and history are performed, the neurologist can make a presumptive diagnosis of PD. There are a number of other disorders, which have some similar features and can be mistaken for Parkinson's disease. Specific diagnostic testing can rule these out in most cases. CT scan (computerized tomography) and MRI scan (magnetic resonance imaging) are often performed.

If drugs are ineffective and disease is advanced, surgery is considered. For patients with levodopa-induced dyskinesias, deep brain stimulation of the subthalamic nucleus or globus pallidus interna is often recommended. At present, there is no cure for PD, but a variety of medications provide dramatic relief from the symptoms. Usually, patients are given levodopa combined with carbidopa.


The treatment options of Parkinson's disease are : -
The list of of Neurosurgery Hospitals in India is as follows : -
| | |
| --- | --- |
| | Apollo Hospitals, Bangalore, India |
| | Apollo Hospital, Chennai, India |
| | Apollo Hospitals, Hyderabad, India |
| | Indraprastha Apollo Hospital, Delhi, India |
| | Apollo Gleneagles Hospital, Kolkata, India |
| | Wockhardt Hospital, Mumbai, India |
| | Fortis Hospital, Delhi, India |
| | Fortis Hospital, Mohali, India |
| | Fortis Hospital, Noida, India |
| | Escorts Heart Institute Hospital, Delhi, India |
| | Artemis Hospital, Gurgaon ( Delhi ) , India |
| | Max Devki Devi Heart and Vascular hospital, Delhi, India |
| | BGS Global Hospital, Bangalore, India |
| | BGS Global Hospital, Chennai, India |
| | BGS Global Hospital, Hyderabad, India |

For more information, medical assessment and medical quote send your detailed medical history and medical reports
as email attachment to
Email : - info@wecareindia.com
Call: +91 9029304141 (10 am. To 8 pm. IST)
(Only for international patients seeking treatment in India)
For a detailed evaluation send patientís medical reports / X rays / doctors notes to info@wecareindia.com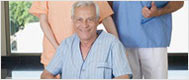 Patient Storys
Successful heart surgery at We Care India partner hospital allows Robert Clarke to live a normal life despite a rare genetic disorder We Care india helped Robert find best super specialised surgeon for his rare conditions.

Read : Robert's Story
See All : Patient's Success Stories


Related Link
Group Websites
Find us on