Multiple Sclerosis Surgery Delhi India
What is Multiple sclerosis?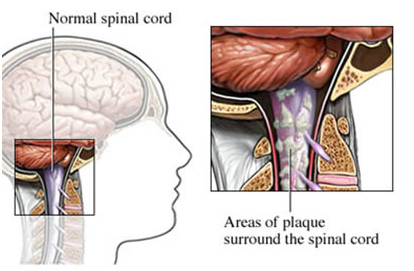 Multiple Sclerosis (MS) is currently classified as a cell mediated autoimmune demyelinating disease of the central nervous system (CNS) of unknown pathogenesis. In most patients, clinical manifestations indicate the involvement of motor, sensory, visual, and autonomic systems but many other symptoms and signs can occur. This prevailing view of MS being a result of abnormal autoimmune responses against patientís own nervous system has been challenged by researchers who found a strong association between MS and a condition called CCSVI -Chronic Cerebro Spinal Venous Insufficiency.



What is CCSVI?
Chronic cerebrospinal venous insufficiency is a vascular condition characterized by defects in main cerebrospinal venous routes that interfere with normal venous outflow form cerebrospinal system. It has been identified very recently and is a chronic (ongoing) problem where the return of deoxygenated blood to the heart from the brain and spine is compromised. The neck and chest veins draining the brain and spine have been found to be narrowed (stenosed). This narrowing causes slower return/backflow of blood which is now being hypothesized to be responsible for deposition of harmful material in the brain, like iron which is a constituent of blood. This iron causes release of free radicals and an autoimmune reaction is provoked which causes damage to the brain.

The concept of chronic cerebrospinal venous insufficiency (CCSVI) leading to MS is undoubtedly a revolutionary way to understand the causation of MS.



What is Liberation treatment for Multiple Sclerosis?
Screening

The patient is clinically evaluated for Multiple Sclerosis. An eye examination, VEP, BERA, Venous Doppler of internal jugular veins and MR Venography are done to screen patients for venous outflow obstruction. Catheter venography is needed to confirm the findings of non invasive tests.



Liberation Treatment

The procedure is minimally invasive. It involves catheter venography (angiography for veins) and venous angioplasty of internal jugular and azygus veins wherever they are stenosed (narrowed). Additionally, wherever indicated, patient may have to be implanted with a stent to keep the stenosed vessel open. For this procedure, the patient has to undergo a needle puncture in the groin under local anesthesia with mild sedation in our cath lab under fluoroscopy. The procedure is usually pain free but may cause mild discomfort. Patient is allowed oral diet an hour or so later. It, however, requires a patient to be on bed rest for next six hours as moving the leg can lead to collection of blood (hematoma).


For international patients, in order to obtain a no obligation specialist opinion on whether CCSVI is advisable to you or not, kindly email the following diagnostic results in JPEG format:
MRV of cervical (neck) region
Venous Doppler of the cervical (neck) region
Questionnaire/medical history

In case the above are not available, the patient can come to Fortis Healthcare, New Delhi for the CCSVI screening package. If our specialist team finds the screening results positive, the patient will be taken up for treatment immediately.




The list of of Neurosurgery Hospitals in India is as follows : -
| | |
| --- | --- |
| | Apollo Hospitals, Bangalore, India |
| | Apollo Hospital, Chennai, India |
| | Apollo Hospitals, Hyderabad, India |
| | Indraprastha Apollo Hospital, Delhi, India |
| | Apollo Gleneagles Hospital, Kolkata, India |
| | Wockhardt Hospital, Mumbai, India |
| | Fortis Hospital, Delhi, India |
| | Fortis Hospital, Mohali, India |
| | Fortis Hospital, Noida, India |
| | Escorts Heart Institute Hospital, Delhi, India |
| | Artemis Hospital, Gurgaon ( Delhi ) , India |
| | Max Devki Devi Heart and Vascular hospital, Delhi, India |
| | BGS Global Hospital, Bangalore, India |
| | BGS Global Hospital, Chennai, India |
| | BGS Global Hospital, Hyderabad, India |

For more information, medical assessment and medical quote send your detailed medical history and medical reports
as email attachment to
Email : - info@wecareindia.com
Call: +91 9029304141 (10 am. To 8 pm. IST)
(Only for international patients seeking treatment in India)
For a detailed evaluation send patientís medical reports / X rays / doctors notes to info@wecareindia.com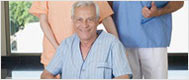 Patient Storys
Successful heart surgery at We Care India partner hospital allows Robert Clarke to live a normal life despite a rare genetic disorder We Care india helped Robert find best super specialised surgeon for his rare conditions.

Read : Robert's Story
See All : Patient's Success Stories


Related Link
Group Websites
Find us on