Overview
Laparoscopic Transhiatal Esophagectomy in India



Laparoscopic Transhiatal Esophagectomy and Gastric Pull-Up for Esophageal Rupture



Laparoscopic esophagectomy and gastric pull-up for cancer or esophageal trauma have been reported as challenge but safe procedures that reproduce results of open surgery by several authors. A laparoscopic tailoring of a gastric tube with transhjatal mediastinal dissection and gastric pull-up was performed in a young psycotic man referred for rupture of the cervical esophagus caused by large foreign bodies ingestion and clinical signes of mild mediastinitis.




Methods : -

A 2-stage procedure was performed. On emergency removal of the foreign bodies, double cervical esophagostomy and drainage were performed via a left lateral cervicotomy. After a 7 day ICU stay and complete recovery from the mediastinitis the patient underwent laparoscopic esophagectomy and gastric pull-up for reconstruction. All vascular pedicles but the gastroepiploic arch were divided. Stomach mobilisation was accomplished by ultrasonic dissection, the gastric tube fashioned by multiple linear stapler applications.

The hjatus was widened according to Pinotti and the dissection of the esophagus carried out bluntly and by ultrasonic dissection up to the Azygos vein level. The dissection of the upper esophagus was completed from the neck and the esophago-gastric anastomosis accomplished according to Orringer.




Results : -

Postop course was uneventful. X-ray contrast swallow at postop day 9 showed good passage of contrast medium without leaks. Oral intake started right afterward. At 6-month and 12-month follow-up the patient was completely recovered with regular oral diet.




Conclusion : -

Whatever the approach to mediastinal dissection of the esophagus, the laparoscopic tailoring of the stomach tube is a safe and advisable procedure for both cancer and trauma patients.


Laparoscopic transhiatal esophagectomy for esophageal cancer

Traditional esophagectomy may be associated with mortality, considerable morbidity, and lengthy recovery. It is often performed in cancer patients who are typically older, have associated comorbidities, and are often malnourished, all factors that increase surgical risk. Minimally invasive esophagectomy has the potential advantages of being a less traumatic procedure with an easier postoperative recovery and fewer wound and pulmonary complications.




METHODS : -

A retrospective analysis of patients who underwent laparoscopic transhiatal esophagectomy was performed. Assessed parameters included patient demographics and operative data, pathology results, and long-term follow-up of at least 12 months. RESULTS: Twenty-two patients underwent laparoscopic transhiatal esophagectomy; 19 had esophageal cancer. Two patients were operated on for Barrett esophagus, and 1 patient had achalasia. The majority of patients were men (82%), and the mean age was 59 years (range 15 to 74 years); 1 patient (4.5%) wasconverted to open surgery.

The average operative time was 380 minutes (range 285 to 525 minutes), and the average blood loss was 220 mL; only 3 patients required transfusion. The median hospital stay was 8 days (range 5 to 46 days).Postoperative mortality occurred in 1 patient (4.5%), and postoperative complications developed in 6 patients (27.2%). In the 19 cancer patients, the average number of harvested nodes was 14.3 (range 10 to 19). The average follow-up was 30 months (range 12 to 48 months). The overall survival for cancer patients was 61% (11 of 19), and disease-free survival was 39% (7/19).




CONCLUSIONS : -

Esophagectomy is a major surgery with considerable morbidity and potential mortality. Minimally invasive esophagectomy is a feasible approach that can be safely performed by surgeons with extensive experience in that field. Advantages include less intraoperative blood loss, a smaller incision, and a potentially faster postoperative recovery. In cancer patients, immediate oncologic goals of adequate margins and lymph node dissection can be achieved, and long-term outcome appears to be similar to that found with open approaches.


The list of of Minimal Access Hospitals in India is as follows : -
| | |
| --- | --- |
| | Apollo Hospitals, Bangalore, India |
| | Apollo Hospital, Chennai, India |
| | Apollo Hospitals, Hyderabad, India |
| | Indraprastha Apollo Hospital, Delhi, India |
| | Apollo Gleneagles Hospital, Kolkata, India |
| | Apollo Hospital, Goa, India |
| | Wockhardt Hospital, Bangalore India |
| | Wockhardt Hospital, hyderabad, India |
| | Wockhardt Hospital, Mumbai, India |
| | Fortis Hospital, Delhi, India |
| | Fortis Hospital, Mohali, India |
| | Fortis Hospital, Noida, India |
| | Escorts Heart Institute Hospital, Delhi, India |
| | Manipal Hospital, Bangalore, India |
| | MIOT Hospital, Chennai, India |
| | Narayana Hrudayalaya Heart Hospital, Bangalore, India |
| | Narayana Cancer Hospital, Bangalore, India |
| | Sparsh Hospital, Bangalore, India |
| | Artemis Hospital, Gurgaon ( Delhi ) , India |
| | Max Devki Devi Heart and Vascular hospital, Delhi, India |
| | Max Super Specialty hospital, Delhi, India |
| | BGS Global Hospital, Bangalore, India |
| | BGS Global Hospital, Chennai, India |
| | BGS Global Hospital, Hyderabad, India |

For more information, medical assessment and medical quote send your detailed medical history and medical reports
as email attachment to
Email : - info@wecareindia.com
Call: +91 9029304141 (10 am. To 8 pm. IST)
(Only for international patients seeking treatment in India)
For a detailed evaluation send patientís medical reports / X rays / doctors notes to info@wecareindia.com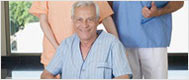 Patient Storys
Successful heart surgery at We Care India partner hospital allows Robert Clarke to live a normal life despite a rare genetic disorder We Care india helped Robert find best super specialised surgeon for his rare conditions.

Read : Robert's Story
See All : Patient's Success Stories


Related Link
Group Websites
Find us on