Liver Biopsy in India
Liver Biopsy Overview

A liver biopsy is a procedure whereby small pieces of liver tissue are removed in order to be sent to a laboratory for examination. It is very helpful in the diagnosis of diseases that affect the liver. There are several potential approaches to procuring tissue for a liver biopsy. These are discussed below.



Percutaneous Liver Biopsy

In a percutaneous liver biopsy procedure, local anesthesia is used to numb the skin where a small incision is made. A needle the diameter of a pen refill is then passed through the skin and into the liver, where a specimen is obtained. Multiple biopsies may be taken. In these circumstances, the physician establishes where the liver lies by percussing or tapping on the skin overlying the liver and listening to the sound to find an area of dullness, under which the liver lies. Patient cooperation is critical during the procedure.



Percutaneous Image-Guided Liver Biopsy

A percutaneous image-guided liver biopsy is similar to the one described above except that the needle is guided by CT scan or ultrasound images. This is often helpful when the disease process is localized to discrete spots in the liver.



Laparoscopic Liver Biopsy

A laparoscopic liver biopsy may be done solely for the purpose of obtaining the biopsy specimen or may be part of another operative procedure. Small incisions are made in the abdomen and instruments are introduced through trocars to obtain the biopsy specimens. The laparoscope is a telescope that magnifies the objects it sees and allows excellent visualization of the liver surface. Ultrasound can be used as part of this procedure.



Open Surgical Liver Biopsy

Open liver biopsies are rarely performed today unless they are part of another operative procedure. When an open biopsy is done, the surgeon may choose to use a biopsy needle or may surgically excise a small wedge of liver tissue.

There are two main reasons why your doctor may request that you undergo a liver biopsy. (Some of the more common diagnoses for which a liver biopsy is ordered are listed in the next section.)


Diagnosis

: - A liver biopsy is a very important and helpful test in the diagnosis of numerous diseases that affect the liver and bile ducts. A small piece or pieces of tissue are removed from your liver and sent for examination. In most cases, this allows establishment of a very specific diagnosis.

Monitoring

: - A liver biopsy can help your doctor monitor the effectiveness of therapy that you are receiving for a disease that affects the liver. Likewise, it can provide a warning if certain therapies you are receiving are damaging the liver.

Reasons a Liver Biopsy Is Performed : -
Liver biopsy: Diagnostic purposes

Alcoholic liver disease
Elevated liver enzymes of unknown cause
Biliary tract obstruction/jaundice
Fatty liver disease
Hemochromatosis
Wilson disease
Autoimmune liver disease
Alpha1-antitrypsin deficiency
Possibleinjury due to drug therapies
Hepatitis B
Hepatitis C
Hepatomegaly (liver enlargement) of undetermined cause
Cancers that originate in the liver
Cancers that spread (metastasize) to the liver from other sites
Noncancerous tumors or abnormalities in the liver

Liver biopsy: Monitoring therapy

Chronic viral hepatitis
HIV/AIDS
Liver transplantation (to rule out rejection or infection)
Exams and Tests

Your biopsy specimen will be sent for several tests. What types of tests are performed depends on the diagnosis your doctor is trying to make.


Examples of some of the more common tests used to examine liver biopsy specimens include the following : -
Light microscopy with or without special stains
Electron microscopy
Bacterial cultures
Virology testing
Tumor markers
Iron content analysis on liver biopsy to rule out hemochromatosis

Liver Biopsy Treatment

Depending on where your biopsy is performed (office or outpatient site, x-ray department, operating room) and the approach used (surgical vs. nonsurgical),


one or more of the following treatment options will apply to you : -
Intravenous fluids
Sedative drugs
Pain killers
Local, regional, or general anesthesia
Antibiotics
Antinausea drugs
Supplemental oxygen


Following the procedure, you will be monitored until your doctor is satisfied with your recovery.


Monitoring measures will include instruments that provide information about one or more of the following : -
Blood pressure
Heart rate and rhythm
Breathing rate
Oxygen levels (saturation) in your bloodstream
Urine output
The list of of Minimal Access Hospitals in India is as follows : -
| | |
| --- | --- |
| | Apollo Hospitals, Bangalore, India |
| | Apollo Hospital, Chennai, India |
| | Apollo Hospitals, Hyderabad, India |
| | Indraprastha Apollo Hospital, Delhi, India |
| | Apollo Gleneagles Hospital, Kolkata, India |
| | Apollo Hospital, Goa, India |
| | Wockhardt Hospital, Bangalore India |
| | Wockhardt Hospital, hyderabad, India |
| | Wockhardt Hospital, Mumbai, India |
| | Fortis Hospital, Delhi, India |
| | Fortis Hospital, Mohali, India |
| | Fortis Hospital, Noida, India |
| | Escorts Heart Institute Hospital, Delhi, India |
| | Manipal Hospital, Bangalore, India |
| | MIOT Hospital, Chennai, India |
| | Narayana Hrudayalaya Heart Hospital, Bangalore, India |
| | Narayana Cancer Hospital, Bangalore, India |
| | Sparsh Hospital, Bangalore, India |
| | Artemis Hospital, Gurgaon ( Delhi ) , India |
| | Max Devki Devi Heart and Vascular hospital, Delhi, India |
| | Max Super Specialty hospital, Delhi, India |
| | BGS Global Hospital, Bangalore, India |
| | BGS Global Hospital, Chennai, India |
| | BGS Global Hospital, Hyderabad, India |

For more information, medical assessment and medical quote send your detailed medical history and medical reports
as email attachment to
Email : - info@wecareindia.com
Call: +91 9029304141 (10 am. To 8 pm. IST)
(Only for international patients seeking treatment in India)
For a detailed evaluation send patientís medical reports / X rays / doctors notes to info@wecareindia.com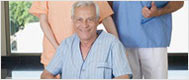 Patient Storys
Successful heart surgery at We Care India partner hospital allows Robert Clarke to live a normal life despite a rare genetic disorder We Care india helped Robert find best super specialised surgeon for his rare conditions.

Read : Robert's Story
See All : Patient's Success Stories


Related Link
Group Websites
Find us on