Perianal Abscess Surgery India

Q.

What is it ?



A perianal abscess is an infection in the wall of the lowest part of the back passage. Pus is building under the skin causing swelling and pain. There is sometimes a connection with the back passage itself, which 'fuels' the infection since the back passage is full of bugs.


Stool formed in the colon or large intestine empties into the rectum and the anal canal then exits through the anus. Perianal refers to the structures around the anus (skin) and within the anal canal. The walls of the anal canal above the anus contain anal glands that secrete lubricants.
Stool contains waste material and many bacteria. If there is a cut or scratch in the skin around the anus or the walls of the anal canal, bacteria can enter and cause an infection. The infection then causes local swelling, irritation, tissue damage, and fluid buildup (abscess).
Symptoms
Unable to sit comfortably
Difficulty or pain with passing stool
Redness or pain around anus
Abscess felt around anus or within anal canal
Peri-rectal swelling
Pain may be throbbing, sharp, or dull
Fever may be seen in severe case
Bleeding or discharge if abscess is drained or accidentally ruptures.
In elderly there maybe no fever only lower abdominal pain
If the abscess ruptures and leaves a fissure that opens into the anal canal, a fistula is formed.
Causes
Staphylococcus
E. coli
Streptococci
Proteus vulgaris
Pseudomonas aeruginosa
Bacteroides
Usually a mixture of above


Q.

How the diagnosis is made




Need examination by a doctor
If abscess is in the canal, the doctor may need to insert his gloved index finger in the canal (digital rectal exam) and feel for it.
If fever is present and the patient appears sick, blood samples may be taken to assess the severity of infection.
Barium Enema -- an enema used to pour a chalky substance called barium through the anus into the rectum for X-raying. This will help if the abscess cannot be felt, or if a fistula is present.
Sigmoidoscopy -- a rigid tube inserted into the rectum allows the doctor to look inside.
Risk Factors
From food such as egg shell and fish bone
Swallowed objects, such as rings, coins, paperclips
Penetrating injuries : -
Constipation
Enema
Vibrators
Anal sex
Light bulbs
Bottles
Surgical injection of hemorrhoids
Diseases : -
hemorrhoids (hang out from the anus opening)
Inflammatory Bowel Disease
Granulomatous diseases such as Sarcoidosis
Weakened immune system (body's defenses) -- cancer (specially of blood), AIDS, etc.
The operation

You will have a general anaesthetic, and will be asleep for the whole operation. The pus is let out through a cut in the skin. The surgeon will also wash out the area of the infection to minimise the chances of it coming back. The wound is packed with swabs. Antibiotics are given to help the healing. You should be able to go home after one or two days. For the first week or so after the operation, the swabs are changed for clean ones about every other day.

This can be done on the ward while you are in the hospital or in the outpatients clinic or in your GP's surgery when you leave the hospital. After that you will not need any more swabs in the area and at about a month later the wound is examined to see if any more treatment is needed.


Q.

Any alternatives ?



If you let nature take its course, the abscess will discharge pus after several days. While you are waiting, you will have a lot of pain and a high temperature. The abscess will get much bigger than if you had it drained. Healing will take much longer. You will be off work and off colour for much longer. There is a considerable chance that the abscess can spread and you could end up with a generalised infection (sepsis) which could be potentially lethal. Antibiotics have not worked for you. Heat treatment and ointments will not help.



Before the operation

Stop smoking and get your weight down if you are overweight. If you know that you have problems with your blood pressure, your heart, or your lungs, ask your family doctor to check that these are under control. Check the hospital's advice about taking the Pill or hormone replacement therapy (HRT). Check you have a relative or friend who can come with you to the hospital, take you home, and look after you for the first week after the operation. Sort out any tablets, medicines, inhalers that you are using. Keep them in their original boxes and packets. Bring them to the hospital with you.

On the ward, you will be checked for past illnesses and will have special tests to make sure that you are well prepared and that you can have the operation as safely as possible. Please tell the nurses of any allergies to tablets, medicines or dressings. You will have the operation explained to you and will be asked to fill in an operation consent form.

Before you sign the consent form, make sure that you fully understand all the information that was given to you regarding your health problems, the possible and proposed treatments and any potential risks. Feel free to ask more questions if things are not entirely clear. Many hospitals now run special preadmission clinics, where you visit a week or so before the operation, where these checks will be made.



After - in hospital

There is some discomfort on moving rather than severe pain. You will be given injections or tablets to control this as required. Ask for more if the pain is not controlled or if it gets worse. Many hospitals are now using what is called PCA (patient controlled analgesia). By pressing a button on a device you can inject painkillers into your blood stream through a very fine plastic tube that goes into one of the small blood vessels (veins) in your hand.

A small computer controls the amount of painkiller that is released and prevents any accidental overdose. Alternatively, you may have a fine tube in your back through which pain relief can be given to help control the pain. A general anaesthetic will make you slow, clumsy and forgetful for about 24 hours. The nurses will help you with everything you need until you are able to do things for yourself. Do not make important decisions, drive a car, use machinery, or even boil a kettle during this time.

You will most likely be able to get out of bed with help of the nurse the day after operation despite some discomfort. You will not do the wound any harm, and the exercise is very helpful for you.
You may be given a blood-thinning injection in your skin once a day to prevent any blood clots in your legs. This can happen in the first few days after the operation until you can move around a bit more. Those clots can be very dangerous because they can 'travel north' through your blood stream to your heart and lungs and cause very serious problems and even death. You should be comfortable enough to go home within one or two days.

The first time you open your bowels it may be a bit painful but this should improve over time. It is important that you pass urine and empty your bladder within 6 to 12 hours of the operation. If you find using a bed pan or a bottle difficult, the nurses will assist you to a commode or a toilet. If you still cannot pass urine let the nurses know and steps will be taken to correct the problem. You may need a catheter (fine plastic drain tube) put in your front passage to drain the urine from your bladder until you are able to pass urine comfortably on your own.

The wound has a dressing held on by elastic netting pants. There may be some staining with old blood during the first 12 hours. The dressings will be removed the day after operation and will be replaced with a lighter dressing.

There may be stitches in the wound. You can wash as soon as the dressings have been removed but try to keep the wound area dry for the time (about a week) you will have swabs in the wound. Soap and tap water are entirely adequate. Salted water is not necessary. You may be given an appointment to visit the outpatient department for a check up one week after you leave hospital. Any stitches will be taken out at this visit. Some hospitals arrange a check-up about one month after you leave hospital. Others leave check-ups to the general practitioner. The nurses will advise about sick notes, certificates etc.



After - at home

You will be given dressings to use at home as needed. You will be given a supply of antibiotics. You may be uncomfortable for three to four days. The wound should heal within two weeks. You can drive as soon as you can make an emergency stop without discomfort in the wound, i.e. after about 10 days.

You can restart sexual activities within a week or two, when the wound is comfortable enough. You should be able to return to a light job after about one week, and any heavy job within two weeks.



Possible complications

As with any operation under general anaesthetic, there is a very small risk of complications related to your heart and lungs. The tests that you will have before the operation will make sure that you can have the operation in the safest possible way and will bring the risk for such complications very close to zero.

Complications are relatively rare and seldom serious. If you think that all is not well, please let the doctors or nurses know. The wound is always a bit moist for a week or two. There is likely to be a discharge of yellow matter and even some dark blood on the dressings during this time. Opening your bowels will rapidly become easier, particularly if you take a laxative. DO NOT however take bran or a high-fibre diet until the back passage is pain-free in case you end up with a blockage.

There is a very small chance that you may experience some persistent bleeding after the operation or, even more rarely, there is chance that some damage will be caused to a vessel, a nerve or your back passage during the operation. In a situation like this you will need another operation to fix the problem.

There will be greater chance of complications if the operation is delayed, however every effort will be made to reduce any such risk.

The operation to drain the abscess solves the problem completely in just over 50% of cases. In the remaining patients a small permanent communication (fistula) can develop between the back passage and the skin with recurrent local infection, which can, in some people (like the elderly or diabetic patients) develop into an abscess again. If this is the case you will probably need another operation correct the fistula between the back passage and the skin.




The list of of Minimal Access Hospitals in India is as follows : -
| | |
| --- | --- |
| | Apollo Hospitals, Bangalore, India |
| | Apollo Hospital, Chennai, India |
| | Apollo Hospitals, Hyderabad, India |
| | Indraprastha Apollo Hospital, Delhi, India |
| | Apollo Gleneagles Hospital, Kolkata, India |
| | Apollo Hospital, Goa, India |
| | Wockhardt Hospital, Bangalore India |
| | Wockhardt Hospital, hyderabad, India |
| | Wockhardt Hospital, Mumbai, India |
| | Fortis Hospital, Delhi, India |
| | Fortis Hospital, Mohali, India |
| | Fortis Hospital, Noida, India |
| | Escorts Heart Institute Hospital, Delhi, India |
| | Manipal Hospital, Bangalore, India |
| | MIOT Hospital, Chennai, India |
| | Narayana Hrudayalaya Heart Hospital, Bangalore, India |
| | Narayana Cancer Hospital, Bangalore, India |
| | Sparsh Hospital, Bangalore, India |
| | Artemis Hospital, Gurgaon ( Delhi ) , India |
| | Max Devki Devi Heart and Vascular hospital, Delhi, India |
| | Max Super Specialty hospital, Delhi, India |
| | BGS Global Hospital, Bangalore, India |
| | BGS Global Hospital, Chennai, India |
| | BGS Global Hospital, Hyderabad, India |

For more information, medical assessment and medical quote send your detailed medical history and medical reports
as email attachment to
Email : - info@wecareindia.com
Call: +91 9029304141 (10 am. To 8 pm. IST)
(Only for international patients seeking treatment in India)
For a detailed evaluation send patientís medical reports / X rays / doctors notes to info@wecareindia.com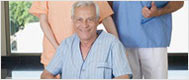 Patient Storys
Successful heart surgery at We Care India partner hospital allows Robert Clarke to live a normal life despite a rare genetic disorder We Care india helped Robert find best super specialised surgeon for his rare conditions.

Read : Robert's Story
See All : Patient's Success Stories


Related Link
Group Websites
Find us on