Hip Replacement Alternatives

Severe hip arthritis can cause pain and difficulty walking. Many patients who have these problems because of hip arthritis will elect to undergo total hip replacement surgery. However, total hip replacement is not without its own problems, and therefore many patients wonder if there are alternatives to hip replacement.



Alternatives to Hip Replacement



Conservative Treatment



Not having surgery is always an alternative. Patients who have severe arthritis of the hip, but function adequately, can choose to live with their condition. There are effective treatments for hip arthritis that may help patients avoid the need for a total hip replacement. Among these are physical therapy, walking aids, anti-inflammatory medications, cortisone injections, and joint supplements. For more information about these potential treatment options, see the following page: Hip Arthritis Treatments




Hip Resurfacing



Hip resurfacing surgery is an alternative to standard hip replacements for patients with severe arthritis. In a hip resurfacing surgery, the implant is smaller, and less normal bone is removed. Hip resurfacing is gaining interest, especially in younger patients.

During the hip resurfacing procedure, only a small amount of bone is removed from the ball-and-socket hip joint, and a metal cap is placed on top of the ball. A metal socket is placed in the pelvis, similar to the hip replacement procedure. This hip resurfacing preserves much more normal bone than a standard hip replacement.




Hip Fusion (Arthrodesis)



Hip fusion is a seldom performed procedure now that hip replacement has become so successful. Hip fusion surgery eliminates all motion at the hip joint by having the bones of the femur and pelvis heal together. They are held in this position by a large metal plate and screws. Hip fusions are usually done in young patients who are heavy laborers. The hip fusion does not wear out like hip replacements would in these patients. The hip fusion allows the patient to perform physically demanding tasks that could lead to early wear on a total hip replacement. The problem with hip fusion is that patients will have no motion of the hip, they will walk with a limp, and may eventually need further surgery to convert to a hip replacement.




Resection Arthroplasty (Gridlestone Procedure)



A resection arthroplasty is a procedure where the bone around the hip joint is removed and the joint space is allowed to fill with scar tissue. This procedure is usually done in patients with severe infection that cannot be controlled, or in patients whose physical condition is such that they have little chance of normal walking. Patients who undergo a Girdlestone resection arthroplasty will likely need some assistive device for walking.




Hip Osteotomy



Hip osteotomy is a procedure that is done to realign the bones of the hip joint. The osteotomy can be performed on the thigh bone (femur), the pelvis, or both. Osteotomies are usually performed on patients with an underlying problem that has led to early arthritis of the hip joint. For example, developmental conditions such as hip dysplasia can lead to early hip arthritis. Hip dysplasia occurs in infants and leads to malaligned bones around the hip. The osteotomy helps to realign the bones and relieve the symptoms of early arthritis. These procedures must be done in carefully selected patients.



What Are Alternatives to Total Hip Replacement ?

Before considering a total hip replacement, the doctor may try other methods of treatment, such as an exercise program and medication. An exercise program can strengthen the muscles in the hip joint and sometimes improve positioning of the hip and relieve pain.

The doctor also may treat inflammation in the hip with nonsteroidal anti-inflammatory drugs, or NSAIDs. Some common NSAIDs are aspirin and ibuprofen. Many of these medications are available without a prescription, although a doctor also can prescribe NSAIDs in stronger doses.

In a small number of cases, the doctor may prescribe corticosteroids, such as prednisone or cortisone, if NSAIDs do not relieve pain. Corticosteroids reduce joint inflammation and are frequently used to treat rheumatic diseases such as rheumatoid arthritis. Corticosteroids are not always a treatment option because they can cause further damage to the bones in the joint. Some people experience side effects from corticosteroids such as increased appetite, weight gain, and lower resistance to infections. A doctor must prescribe and monitor corticosteroid treatment. Because corticosteroids alter the body's natural hormone production, patients should not stop taking them suddenly and should follow the doctor's instructions for discontinuing treatment.

If physical therapy and medication do not relieve pain and improve joint function, the doctor may suggest corrective surgery that is less complex than a hip replacement, such as an osteotomy. Osteotomy is surgical repositioning of the joint. The surgeon cuts away damaged bone and tissue and restores the joint to its proper position. The goal of this surgery is to restore the joint to its correct position, which helps to distribute weight evenly in the joint. For some people, an osteotomy relieves pain. Recovery from an osteotomy takes 6 to 12 months. After an osteotomy, the function of the hip joint may continue to worsen and the patient may need additional treatment. The length of time before another surgery is needed varies greatly and depends on the condition of the joint before the procedure.




The list of of Hip Replacement Hospitals in India is as follows : -
| | |
| --- | --- |
| | Apollo Hospitals, Bangalore, India |
| | Apollo Hospital, Chennai, India |
| | Apollo Hospitals, Hyderabad, India |
| | Indraprastha Apollo Hospital, Delhi, India |
| | Apollo Gleneagles Hospital, Kolkata, India |
| | Apollo Hospital, Goa, India |
| | Wockhardt Hospital, Bangalore India |
| | Wockhardt Hospital, Mumbai, India |
| | Fortis Hospital, Delhi, India |
| | Fortis Hospital, Mohali, India |
| | Fortis Hospital, Noida, India |
| | Manipal Hospital, Bangalore, India |
| | MIOT Hospital, Chennai, India |
| | Sparsh Hospital, Bangalore, India |
| | Artemis Hospital, Gurgaon ( Delhi ) , India |
| | Max Devki Devi Heart and Vascular hospital, Delhi, India |
| | BGS Global Hospital, Bangalore, India |
| | BGS Global Hospital, Chennai, India |
| | BGS Global Hospital, Hyderabad, India |

For more information, medical assessment and medical quote send your detailed medical history and medical reports
as email attachment to
Email : - info@wecareindia.com
Call: +91 9029304141 (10 am. To 8 pm. IST)
(Only for international patients seeking treatment in India)
For a detailed evaluation send patientís medical reports / X rays / doctors notes to info@wecareindia.com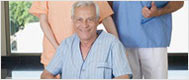 Patient Storys
Successful heart surgery at We Care India partner hospital allows Robert Clarke to live a normal life despite a rare genetic disorder We Care india helped Robert find best super specialised surgeon for his rare conditions.

Read : Robert's Story
See All : Patient's Success Stories


Related Link
Group Websites
Find us on