Hip Pain - Understanding Hip pain and Hip Pain Treatment

The hip is one of the main weight-bearing joints in your body.


It consists of two main parts : -
A ball (femoral head) at the top of your thighbone (femur)
A rounded socket (acetabulum) in your pelvis

Ligaments, which are bands of tissue, connect the ball to the socket and help keep the ball and socket steady. A smooth, tough material called articular cartilage, which cushions the bones and lets them move easily, covers the surfaces of the ball and socket. All the rest of the surfaces of the hip joint are covered by a thin, smooth tissue liner called synovial membrane, which makes a small amount of fluid that acts as a lubricant so that the bones in the hip joint will not rub against each other.



What Causes Hip Pain ?

Pain in your hip can be debilitating, making it difficult for you to walk, climb stairs, or even pick up an object from the floor. It can limit your freedom of movement and ability to function independently. Experiencing joint pain day after day without relief can lead to "staying off" the joint - which often weakens the muscles around it so it becomes even more difficult to move.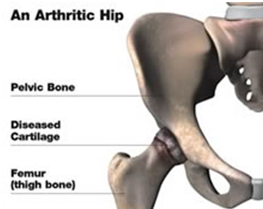 While hip pain can be caused by deformity or by direct injury, like trauma or a sports injury, the most common cause of hip pain is osteoarthritis (OA) also known as degenerative joint disease (DJD). Depending on factors like age, weight, joint function, and activity, people with arthritis find their hip's cartilage lining wears away over time. At that point, your bones begin to rub against each other, resulting in friction, swelling, pain, stiffness, and instability.

Arthritis is one of the most common causes of joint disorders. More than 42 million people in the United States are diagnosed with arthritis.


The most common types of arthritis are : -
Osteoarthritis
Rheumatoid Arthritis
Post-Traumatic Arthritis
Paget's Disease
Avascular Necrosis

Hip Pain Evaluation

While every orthopaedic evaluation is different, there are many commonly used tests that an orthopaedic surgeon may consider in evaluating a patient's condition.


In general, the orthopaedic evaluation usually consists of : -
A thorough medical history
A physical examination
X-rays
Additional tests, as needed

Your medical history is taken to assist the orthopaedic surgeon in evaluating your overall health and the possible causes of your joint pain. In addition, it will help your orthopaedic surgeon determine to what degree your joint pain is interfering with your ability to perform everyday activities.

What the physician sees during the physical examination - which includes examination of standing posture, gait analysis (watching how you walk), sitting down, and lying down - helps to confirm (or to rule out) the possible diagnosis.


The physical exam will also enable the orthopaedic surgeon to evaluate other important aspects of your hips and knees, including : -
Size and length
Strength
Range of motion
Swelling
Reflexes
Skin condition

If you are experiencing pain in your hip joint, your back may be examined because hip pain may actually be the result of problems in the lower spine.

After the physical examination, X-ray evaluation is usually the next step in making the diagnosis. The X-rays help show how much joint damage or deformity exists


An abnormal X-ray may reveal : -
Narrowing of the joint space
Cysts in the bone
Spurs on the edge of the bone
Areas of bony thickening called sclerosis
Deformity or incorrect alignment

Occasionally, additional tests may be needed to confirm the diagnosis. Laboratory testing of your blood, urine, or joint fluid can be helpful in identifying specific types of arthritis and in ruling out certain diseases. Specialized X-rays of the back can help confirm that hip pain isn't being caused by a back problem. Magnetic Resonance Imaging (MRI) or a bone scan may be needed to determine the condition of the bone and soft tissues of the affected joint.

In order to assist the doctor in making a diagnosis, it may be helpful to write down your answers to the following questions before the appointment : -

Where and when do I have pain ?
How long have I had this pain ?
Do I have any redness or swelling around my joints ?
What daily tasks are hard to do now ?
Did I ever hurt the joint or overuse it ?
Does anyone in my family have similar problems, such as spurs on the edge of the bone ?

Of course, even if your doctor determines that joint replacement is a good medical option for you, it is still up to you to make the final decision. The ultimate goal is for you to be as comfortable as possible, and that always means making the best decision for you based on your own individual needs.

Following the orthopaedic evaluation, your doctor will review and discuss the results with you. Based on his or her diagnosis


your treatment options may include : -

Non Surgical Treatment of Hip Pain




Weight Management and Activity Modification : -



Your doctor may recommend that you manage your arthritis pain by maintaining a healthy weight. A balanced diet helps manage weight and helps you stay healthy. Additional pressure (weight) on weight bearing joints, such as hips and knees, may aggravate your arthritis. By managing your weight, stress is reduced on weight-bearing joints.

A variety of exercises may also be recommended to help you maintain flexibility and manage weight. According to the Arthritis Foundation, research has shown that exercise is an essential tool in managing your arthritis. Exercises can reduce joint pain and stiffness, build strong muscle around the joints and increase flexibility. Exercise is an important part of arthritis treatment that is most effective when done properly and routinely.

Range of motion (ROM) exercises can help you maintain normal joint movement. They also increase flexibility and relieve stiffness in your hip. Strengthening exercises will help you increase muscle strength which helps support and protect joints affected by arthritis. Aerobic exercise improves cardiovascular fitness, can help control weight and may help reduce inflammation in joints.




Rest & Joint Care : -



The most important way to improve your condition is rest and rehabilitation. At home, general care involves "RICE":

Rest
Ice
Compression
Elevation
Bracing and Orthotics
Braces or shoe inserts may be recommended to take pressure off of certain joints

Short-term bed rest helps reduce both joint inflammation and pain, and is especially useful when multiple joints are affected and fatigue is a major problem. Individual joint rest is most helpful when arthritis involves one or only a few joints.

Heat Therapy - increases blood flow, tolerance for pain, flexibility.

Cold Therapy - such as cold packs, ice massage, OTC sprays and ointments - reduces pain by numbing the nerves around the joint.




Physical Therapy : -



Your doctor may recommend visiting a physical therapist. Physical therapy can be helpful in the management of Osteoarthritis (OA) and Rheumatoid Arthritis (RA).


For example, a physical therapist may recommend : -
Isometric ("pushing") exercises to help build muscle strength without subjecting inflamed joints to excessive wear
Isotonic ("pulling") exercises to further increase muscle strength and help preserve function
Daily walking, using a cane or other assistive device as needed

The goal is to get you back to the point where you can perform normal, everyday activities without difficulty. Preserving good range of motion is key to maintaining the ability to perform daily activities. Physical therapists provide exercises designed to preserve the strength and use of your joints. They will show you the best way to move from one position to another and teach you how to use walking aids.

Walking aids, such as a cane, walker or brace may be recommended by your doctor.



Surgical Treatment Options of Hip Pain

If you have not experienced adequate results with medication and other conservative treatments, surgery may provide the pain relief you long for, in addition to allowing you to return to the lifestyle and activities you enjoy. Your doctor can tell you whether you might benefit from joint replacement and explain the reasons why it may, or may not, be right for you.

If you and your doctor decide that surgery is an option to relieve your pain, your doctor will provide the specific-to-you details of which type of artificial joint he or she will use, what you need to know to prepare for the surgery, how the surgery will be performed, and what you can expect once you are up and moving again.

If surgery is necessary to address your pain, your doctor may consider Hip Resurfacing or Total Hip Replacement.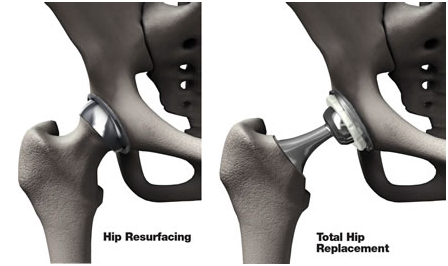 Don't Wait: Consequences of Delaying Surgery



Surgery is a difficult decision. You should talk with your doctor to better understand the risks and complications before making the decision to undergo total hip replacement; but keep in mind that osteoarthritis is a degenerative disease, which means that the disease, and your pain, is likely to get worse over time. So why wait? Consider the fact that better outcomes have been reported in those patients who had a total joint operation earlier in their disease process.1 Two years after their operation, patients who chose surgery earlier in the disease process had improved function and reduced pain compared to those who waited.1




Arthroscopic Procedures




Repair or resection of torn cartilage (meniscus) from knee or shoulder
Reconstruction of anterior cruciate ligament in knee
Removal of inflamed lining (synovium) in knee, shoulder, elbow, wrist, ankle
Repair of torn ligaments
Removal of loose bone or cartilage in knee, shoulder, elbow, ankle, wrist.
Potential Complications of arthroscopy include infection, blood clots, excessive swelling or bleeding, damage to blood vessels or nerves and instrument breakage. According to the American Academy of Orthopaedic Surgeons, complications are infrequent and are usually minor and treatable.
The list of of Hip Replacement Hospitals in India is as follows : -
| | |
| --- | --- |
| | Apollo Hospitals, Bangalore, India |
| | Apollo Hospital, Chennai, India |
| | Apollo Hospitals, Hyderabad, India |
| | Indraprastha Apollo Hospital, Delhi, India |
| | Apollo Gleneagles Hospital, Kolkata, India |
| | Apollo Hospital, Goa, India |
| | Wockhardt Hospital, Bangalore India |
| | Wockhardt Hospital, Mumbai, India |
| | Fortis Hospital, Delhi, India |
| | Fortis Hospital, Mohali, India |
| | Fortis Hospital, Noida, India |
| | Manipal Hospital, Bangalore, India |
| | MIOT Hospital, Chennai, India |
| | Sparsh Hospital, Bangalore, India |
| | Artemis Hospital, Gurgaon ( Delhi ) , India |
| | Max Devki Devi Heart and Vascular hospital, Delhi, India |
| | BGS Global Hospital, Bangalore, India |
| | BGS Global Hospital, Chennai, India |
| | BGS Global Hospital, Hyderabad, India |

For more information, medical assessment and medical quote send your detailed medical history and medical reports
as email attachment to
Email : - info@wecareindia.com
Call: +91 9029304141 (10 am. To 8 pm. IST)
(Only for international patients seeking treatment in India)
For a detailed evaluation send patientís medical reports / X rays / doctors notes to info@wecareindia.com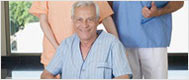 Patient Storys
Successful heart surgery at We Care India partner hospital allows Robert Clarke to live a normal life despite a rare genetic disorder We Care india helped Robert find best super specialised surgeon for his rare conditions.

Read : Robert's Story
See All : Patient's Success Stories


Related Link
Group Websites
Find us on