Pediatric Heart Surgery
World-class Care for Children of All Ages

At the We Care partner heart hospitals in India, we offer the most advanced surgical therapy for congenital heart disease for pediatric patients of all ages, from newborns to adolescents. The conditions that we treat most often in the various age groups include:




Pediatric and Congenital Conditions : -



Transposition of the great arteries. In this condition, the anatomical positions of the pulmonary artery and aorta are switched, so that the aorta arises from the right ventricle, and the pulmonary artery arises from the left ventricle. This causes oxygen-poor blood to be circulated to the body instead of oxygen-rich blood, a life-threatening medical emergency requiring immediate treatment. Our world-renowned surgeons have pioneered the innovative arterial switch procedure which re-establishes normal anatomy and function while seeking to avoid the complications that have been associated with other surgical approaches.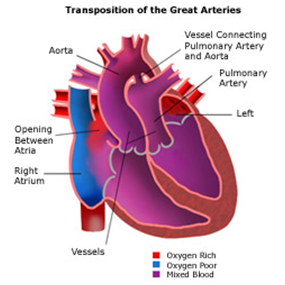 Hypoplastic left heart syndrome (HLHS), in which the left side of the heart is incompletely formed. We have extensive experience with the Norwood procedure and stage palliation for HLHS. Our outcomes rank among the best in the country for this type of repair, and we are currently involved in a major multi-institutional study evaluating this and other innovative procedures for the treatment of HLHS.




Infants : -



Tetralogy of Fallot, the most common cyanotic defect (the heart delivers less oxygen to the body than normal). This complex congenital condition consists of four developmental defects that require surgical correction early in childhood. Know More.

Ventricular septal defect an opening in the wall that separates the two ventricles of the heart, causing mixing of oxygen-poor blood with oxygen-rich blood. Know More.

Atrial septal defect, an opening in the wall between the right and left atria that results in abnormal blood flow through the heart. Left untreated, this condition can cause enlargement of the right side of the heart, arrhythmias and, in some cases, pulmonary hypertension. Know More.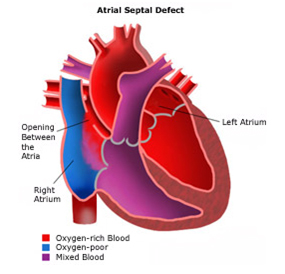 Coarctation of the aorta, a constriction in the aorta that causes blood pressure to increase above the narrowed area while limiting blood flow to the body.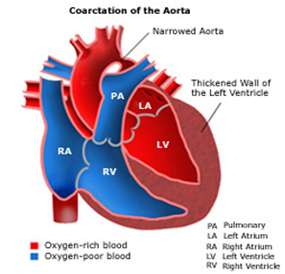 Atrioventricular canals, which are large openings between the right and left sides of the heart. Usually, one large common valve replaces the normal mitral and tricuspid valves. Left untreated, this defect can cause the poor growth, malnourishment, enlargement of the heart, and even pulmonary hypertension.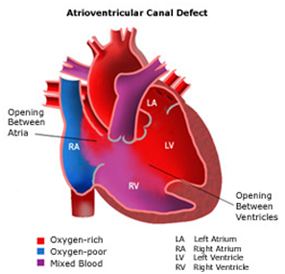 Children



Single ventricle, a collective term that describes defects in which oxygen-rich and poor blood is mixed in a single ventricle. Our pediatric cardiac surgeons have expertise in the Fontan procedure, which directs oxygen-poor blood directly to the pulmonary artery and lungs. The single ventricle is reserved for collecting oxygen-rich blood from the lungs, then pumping it to the aorta and the rest of the body.

Valve repair, for damaged mitral, tricuspid, or aortic valves. Re-repair of previous surgery.




Adolescents



Valve repair, for damaged mitral, tricuspid, or aortic valves. Repair of failing Fontan surgery performed in childhood.



Surgical Procedures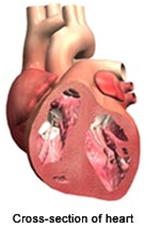 A minimally invasive approach is the future of cardiovascular surgery. At We Care partner heart hospitals in India, we continue to pioneer techniques such as video cameras and robotics that enable the surgeon to see inside one's heart and repair it. Using small incisions that only allow room for sterilized instruments, the surgeon's hands and fingers rarely touch the patient's tissue.



As a result, patients who undergo minimally invasive surgery have :
Reduced incidence of infection
Shorter hospital stays
Less scarring and better cosmetic results
The following are overviews of various pediatric heart surgeries our physicians perform. You can also read our : -
Neonatal Surgery for Heart Conditions
Echo-Assisted Open Heart Surgery
Extracorporeal membrane oxygenation (ECMO)
Extracardiac Fontan
Intraoperative Stenting
Minimally Invasive Heart Surgery
Pacemakers
Ross Procedure
Congenital Heart Disease Surgery

Congenital heart defects are common, affecting nearly one percent of all newborns. Having a congenital heart defect increases the risk for developing complications such as heart failure, endocarditis, atrial fibrillation and heart valve problems. Surgical treatment of a congenital heart defect varies depending on the specific diagnosis.


Common surgical procedures include : -
Repair of holes in the heart
Obstruction to blood flow
Valve lesions
Irregular heart rhythms
A combination of the above conditions
Neonatal Surgery for Heart Conditions

One of our specialties is the repair of very complex neonatal heart conditions in premature (and low birth weight) babies. As a regional referral center, families from throughout the state come to California Pacific to receive care for a premature child or a fetus in which heart abnormalities are detected.

We are also frequently asked to evaluate babies prior to birth when the fetus is recognized as having a heart defect. Common neonatal conditions corrected by our surgeon include ventricular septal defects (VSDs), Tetralogy of Fallot and total anomalous pulmonary venous abnormalities. These complex neonatal disease repairs are performed using minimally invasive surgery and often employ innovative brain protection strategies. Brain protection is critical to maintaining neurological function and learning potential. These capabilities may be compromised when blood flow to the brain is stopped-even briefly-during surgery.



Echo-Assisted Open Heart Surgery

Echocardiography or ultrasonography of the heart is routinely performed during all open heart procedures, regardless of size. Once the child or adult is fully under anesthesia, a probe is placed within the esophagus allowing for excellent views of the intra-cardiac structures. Occasionally when a neonate is very small, weighs less than 2.5kg, or when there is a history of esophageal pathology, an epicardial study is perfomed by placing a small probe directly on the heart.

The advantage of such routine surveillance is the determination of subtle abnormalities and improved quality of the surgical repair. Rarely we can avoid an open heart procedure by using the echocardiographic pictures "real-time" allowing for procedures to be performed without incising the heart chambers but rather by placing precise instruments through small ports within the heart tissue.



Extracorporeal membrane oxygenation (ECMO)

ECMO is the use of an artificial lung (membrane) located outside the body (extracorporeal), that puts oxygen into the blood and then carries this blood to the body tissues (oxygenation). As the heart improves, the amount of blood flow through the extracorporeal membrane oxygenation circuit can be decreased, allowing the heart and lungs to do more of the work. California Pacific Medical Center was the site of the first successful ECMO case in 1977. Although rarely used, having ECMO readily available can permit heart muscle recovery in the most extreme cases of heart failure following complex open heart procedures or in cases of devastating lung failure.



Extracardiac Fontan

Extracardiac Fontan is performed for children or adults with single ventricle physiology. The Fontan procedure connects the right atrium to the pulmonary artery, thus separating the systemic and pulmonary venous circulations.



Intraoperative Stenting

In this procedure, the surgeon and interventional cardiologist work together to insert a stent (and open up a blockage), most often within the pulmonary artery. By using minimally invasive techniques to open the chest, the physicians can insert a larger stent that will last longer than one threaded through the groin vessels.



Minimally Invasive Heart Surgery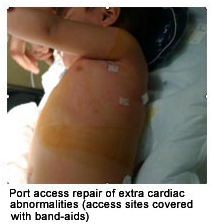 Minimally invasive surgery is typically performed through either a "keyhole" or "port-access" approach. A keyhole approach involves one midline incision (hemi-median sternotomy) across the lower two-thirds of the sternum. A port-access approach involves multiple 1-cm incisions which allow for insertion of either robotically controlled instrumentation (via the daVinci or Aesop robotic system) or handheld thorascopic instruments.



Surgical Approaches for Minimally Invasive Heart Surgery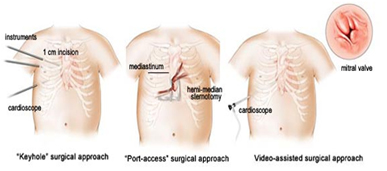 Pacemakers

Sometimes, one's heart rhythm needs to be electrically stimulated so it will maintain a normal heartbeat. In these cases, our cardiovascular surgeon may implant a pacemaker, which helps to restore one's heart rhythm and improve its ability to circulate blood through the body.



Ross Procedure

Some children and adults require an aortic valve replacement when other strategies have failed or are not indicated (i.e. balloon catheter dilation or valve repair). In these cases, a patient's pulmonary valve is removed and used as the heart's aortic valve and an artificial tissue valve is inserted in its place. This procedure is more complex than just replacing the valve with an artificial one, but has the advantages of:


No artificial valve noises
No need for anticoagulation or blood thinners
Resistance to infection
Potential for growth (an important consideration for neonates, children and young adults)
The We Care partner heart hospital offers the following highly specialized procedures to better meet patients' needs : -
Aortic arch advancement
Arterial switch
Atrial septal defect and ventricular septal defect closures
Atrioventricular canal repair
Blalock-Taussig shunt
Coarctation repair
Double-switch procedures
Fontans procedure
Glenn shunt
Heart and lung transplantations
Norwood operation
Patent ductus arteriosus ligation
Rastelli procedure
Repair of Ebstein's anomaly
Repair of anomalous coronary artery
Ross procedure
Transposition of great arteries repair
Ventricular assist devices
The list of of world class heart hospitals in India is as follows : -
| | |
| --- | --- |
| | Apollo Hospitals, Bangalore, India |
| | Apollo Hospital, Chennai, India |
| | Apollo Hospitals, Hyderabad, India |
| | Indraprastha Apollo Hospital, Delhi, India |
| | Apollo Gleneagles Hospital, Kolkata, India |
| | Wockhardt Hospital, Bangalore India |
| | Wockhardt Hospital, hyderabad, India |
| | Wockhardt Hospital, Mumbai, India |
| | Fortis Hospital, Delhi, India |
| | Fortis Hospital, Mohali, India |
| | Fortis Hospital, Noida, India |
| | Escorts Heart Institute Hospital, Delhi, India |
| | Narayana Hrudayalaya Heart Hospital, Bangalore, India |
| | Artemis Hospital, Gurgaon ( Delhi ) , India |
| | Max Devki Devi Heart and Vascular hospital, Delhi, India |
| | BGS Global Hospital, Bangalore, India |
| | BGS Global Hospital, Chennai, India |
| | BGS Global Hospital, Hyderabad, India |

For more information, medical assessment and medical quote send your detailed medical history and medical reports
as email attachment to
Email : - info@wecareindia.com
Call: +91 9029304141 (10 am. To 8 pm. IST)
(Only for international patients seeking treatment in India)
For a detailed evaluation send patientís medical reports / X rays / doctors notes to info@wecareindia.com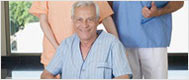 Patient Storys
Successful heart surgery at We Care India partner hospital allows Robert Clarke to live a normal life despite a rare genetic disorder We Care india helped Robert find best super specialised surgeon for his rare conditions.

Read : Robert's Story
See All : Patient's Success Stories


Related Link
Group Websites
Find us on