Overview
Colorectal Surgery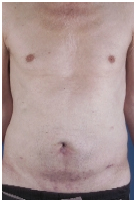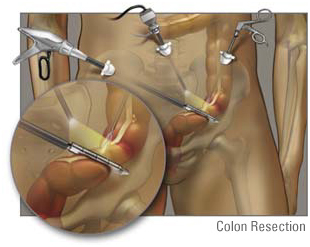 Colorectal surgery repairs damage to the colon, rectum, and anus through a variety of procedures that may have little or great long-term consequence to the patient. It may also involve surgery to the pelvic floor to repair hernias.

Colorectal surgery is performed to repair damage to the colon, rectum, and anus, caused by diseases of the lower digestive tract, such as cancer, diverticulitis, and inflammatory bowel disease (ulcerative colitis and Crohn's disease). Injury, obstruction, and ischemia (compromised blood supply) may require bowel surgery. Masses and scar tissue can grow within the rectum, causing blockages that prevent normal elimination of feces. Other diseases such as diverticulitis and ulcerative colitis can cause perforations in the rectum. Surgical removal of the damaged area or areas can return normal bowel function.


Conditions
rectal bleeding
anal symptoms
abdominal mass
change in bowel habit
suspicion of colorectal pathology
pilonidal disease
faecal incontinence
rectal prolapse
surgery for ulcerative colitis and Crohn's disease.
Treatment
The 4 main types of treatment for colorectal cancer are : -
surgery
radiation therapy
chemotherapy (often called just "chemo")
targeted therapies (called monoclonal antibodies)
| | |
| --- | --- |
| | |
| [ Figure 1. Typical view during a laparoscopic colectomy ] | [ Figure 2. Typical scars after a laparoscopic right colectomy ] |


Depending on the stage of your cancer, 2 or more types of treatment may be used at the same time, or used one after the other.

Take your time and think about all of your treatment choices. You may want to get a second opinion. This can give you more information and help you feel better about the treatment plan you choose. Your chances of having a good outcome are highest in the hands of a medical team that has experience in treating colorectal cancer.



Surgery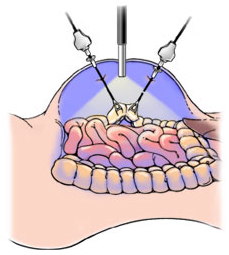 The types of surgery used to treat colon and rectal cancers are slightly different and are described separately.



Colon surgery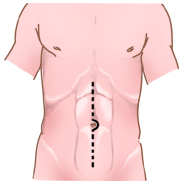 Surgery is often the main treatment for earlier stage colon cancer. The surgery is called a colectomy or a segmental resection. Usually the cancer and a length of normal colon on either side of the cancer (as well as nearby lymph nodes) are removed. The 2 ends of the colon are then sewn back together. For colon cancer, a colostomy (an opening in the abdomen for getting rid of body wastes) is not usually needed, although sometimes a short-term colostomy may be done to allow the colon to heal.

Most often, surgery is done through an incision in the abdomen, but for some earlier stage cancers a different approach might be an option. In laparoscopic-assisted colectomy, instead of 1 long incision in the abdomen, the surgeon makes several small ones. Special long instruments are put into these small openings and used to remove part of the colon and lymph nodes. This method appears to be about as likely to cure the cancer as the standard approach for earlier stage cancers and patients usually recover faster than they do after the usual operations. But the surgery calls for special skill. If you are thinking about this approach, be sure to look for a skilled surgeon who has done a lot of these operations.

Some very early colon cancers (stage 0 and some early stage I tumors) or polyps can be removed using a colonoscope. When this is done, the surgeon does not have to cut into the abdomen. Early stage cancers that are only on the surface of the colon lining can be removed along with a small amount of nearby tissue. For a polypectomy, the cancer is cut out across the base of the polyp's stalk, the area that looks like the stem of a mushroom.



Rectal surgery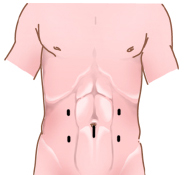 Surgery is usually the main treatment for rectal cancer, too, although radiation and chemotherapy will often be given before surgery. There are several types of surgery for rectal cancer.

Some operations (such as polypectomy, local excision, and local transanal resection) can be done with instruments placed into the anus, without having to cut through the skin. One of these methods might be used to remove some stage I cancers that are fairly small and not too far from the anus.




What are the advantages of Laparoscopic Colorectal Surgery?




The proven benefits of laparoscopic colorectal surgery compared to the traditional open approach include : -
Less postoperative pain
Smaller incisions and scars
Shorter hospital stay
Quicker return to normal activity
May result earlier bowel function
May result in earlier tolerance of solid food
Risks

Potential risks of colorectal surgery are those of any major surgery and usually occur while the patient is still in the hospital. The patient's general health prior to surgery will also be an indication of the potential for risk. Of special concern are cardiac problems and stressed immune systems.

Psychological complications may result from ostomy surgery because of the fear of the social stigma attached to wearing a colostomy bag. Patients may also be depressed and have feelings of low self-worth because of the change in their lifestyle and their appearance. Some patients may feel ugly and sexually unattractive and may worry that their spouse or significant other will no longer find them appealing. Counseling and education regarding surgery and the inherent lifestyle changes are often necessary.



Results

Complete healing is expected without complications. The period of time required for recovery from the surgery may vary, depending on the patient's overall health prior to surgery. Dietary changes may be encouraged to prevent future disorders or to manage a current disease.





The list of of General Surgery Hospitals in India is as follows : -
| | |
| --- | --- |
| | Apollo Hospitals, Bangalore, India |
| | Apollo Hospital, Chennai, India |
| | Apollo Hospitals, Hyderabad, India |
| | Indraprastha Apollo Hospital, Delhi, India |
| | Apollo Gleneagles Hospital, Kolkata, India |
| | Apollo Hospital, Goa, India |
| | Wockhardt Hospital, Bangalore India |
| | Wockhardt Hospital, hyderabad, India |
| | Wockhardt Hospital, Mumbai, India |
| | Wockhardt Hospital and Kidney Institute, Kolkata, India |
| | Fortis Hospital, Delhi, India |
| | Fortis Hospital, Mohali, India |
| | Fortis Hospital, Noida, India |
| | Manipal Hospital, Bangalore, India |
| | MIOT Hospital, Chennai, India |
| | Sparsh Hospital, Bangalore, India |
| | Narayana Cancer Hospital, Bangalore, India |
| | Artemis Hospital, Gurgaon ( Delhi ) , India |
| | Max Super Specialty hospital, Delhi, India |
| | BGS Global Hospital, Bangalore, India |
| | BGS Global Hospital, Chennai, India |
| | BGS Global Hospital, Hyderabad, India |

For more information, medical assessment and medical quote send your detailed medical history and medical reports
as email attachment to
Email : - info@wecareindia.com
Call: +91 9029304141 (10 am. To 8 pm. IST)
(Only for international patients seeking treatment in India)
For a detailed evaluation send patientís medical reports / X rays / doctors notes to info@wecareindia.com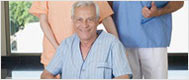 Patient Storys
Successful heart surgery at We Care India partner hospital allows Robert Clarke to live a normal life despite a rare genetic disorder We Care india helped Robert find best super specialised surgeon for his rare conditions.

Read : Robert's Story
See All : Patient's Success Stories


Related Link
Group Websites
Find us on