Overview

Q.

What is chronic liver disease ?



Chronic liver disease is marked by the gradual destruction of liver tissue over time and replacement of normal liver with nodules of scar tissue. Several liver diseases fall under this category. The end results of the gradual destruction are cirrhosis and fibrosis of the liver.


Viruses that cause hepatitis include : -
Symptoms

At first, chronic hepatitis often does not cause any symptoms. People with symptoms most commonly complain of fatigue. Fatigue worsens throughout the day and may even be debilitating.


Other common symptoms include : -
Mild upper abdomen discomfort
Loss of appetite
Nausea
Aching joints

If chronic hepatitis becomes more severe, people may experience additional symptoms, including:

Jaundice (yellowing of the skin and eyes)
Abdominal swelling
Weight loss
Muscle weakness
Dark urine
Easy bruisability and spontaneous bleeding
Confusion which may progress to coma
Prognosis

In its most severe stages, cirrhosis can lead to liver failure and death unless a liver transplant can be done. The likelihood of developing cirrhosis depends on the severity of the disease and the response to treatment. When a biopsy shows more severe damage, treatment can be important to help decrease the risk of developing cirrhosis even if you do not have symptoms. Other factors that affect the prognosis include age, other medical illnesses, the subtype of virus, and alcohol use.

Anyone with cirrhosis also has an increased risk of developing liver cancer and must be screened regularly with a blood test and ultrasound examination of the liver.

The risk of developing cirrhosis depends on the cause of the hepatitis and the degree of inflammation. Symptoms and signs of cirrhosis may develop in 15% to 30% of people who have had chronic hepatitis infection for more than 20 years.



Treatment

The goals of treatment for chronic hepatitis are to prevent the disease from getting worse and to prevent cirrhosis and liver failure. In mild cases of chronic hepatitis from hepatitis B or hepatitis C, treatment may not be necessary, and the condition may not get worse. With active infection, or if a liver biopsy shows early signs of damage, treatment is more likely to be recommended to eliminate active infection. Treatment isn't recommended for everyone because of the side effects and the risk that active infection may return.

Viral hepatitis is treated with antiviral medications, such as interferon alpha (Roferon-A, Intron A), ribavirin (Copegus, Rebetol, Virazole) for hepatitis C and lamivudine (Epivir), Adefovir, Tenofovir, Entecavir for hepatitis B. Clinical trials are under way to determine the best combination of medications, dosage and length of treatment to improve response and lower the chance that the condition will return.


Common side effects with interferon include : -
Fatigue
Muscle aches
Headaches
Nausea and vomiting
Fevers
Weight loss
Irritability and depression

If you have hepatitis C, you should receive the vaccine for hepatitis A and B unless blood tests show that you are already immune to these viruses. You can develop more serious infection from hepatitis A or B than someone who does not have hepatitis C.

If you already have evidence of cirrhosis, you should have a test called endoscopy to look for esophageal varices, enlarged veins in the esophagus that can cause life-threatening bleeding. In an endoscopy, a flexible viewing tube is inserted through your mouth into your esophagusYou also should be screened periodically with a blood test (alpha fetoprotein) and an ultrasound study to search for an early liver cancer.

Corticosteroids and other medications such as azathioprine to suppress the immune system are the main treatment of autoimmune chronic hepatitis. These drugs usually decrease symptoms, reduce liver inflammation, and prolong survival.

Treatment for the less common forms of chronic hepatitis focuses on the disease that is causing the condition. Medication-related chronic hepatitis requires stopping or changing the drug.

If cirrhosis or liver failure develops, a liver transplant may be needed. If you have chronic hepatitis, you must avoid further liver damage from alcohol or Tylenol. Discuss with your doctor how much Tylenol you can take, if any. Remember that certain cold formulations and pain medications also contain Tylenol.

Supportive care is key in coping with chronic hepatitis. A well-balanced diet and good physical fitness can help you battle fatigue and improve overall health. You may need to limit your salt intake if you tend to accumulate fluis as a consequence of cirrhosis. Also, always talk to your physician before taking any additional drugs, including prescription, nonprescription and alternative medications. Your injured liver may not be able to detoxify these



Complications
Portal Hypertension

ascites
hypersplenism (with or without splenomegally)
varices (lower oesophageal and rectal)

Synthetic Dysfunction

Hypoalbuminaemia
Coagulopathy

Hepatopulmonary Syndrome
Hepatorenal Syndrome
Encephalopathy
Hepatocellular Carcinoma
The list of of Gastroenterology Hospitals in India is as follows : -
| | |
| --- | --- |
| | Apollo Hospitals, Bangalore, India |
| | Apollo Hospital, Chennai, India |
| | Apollo Hospitals, Hyderabad, India |
| | Indraprastha Apollo Hospital, Delhi, India |
| | Apollo Gleneagles Hospital, Kolkata, India |
| | Apollo Hospital, Goa, India |
| | Wockhardt Hospital, Bangalore India |
| | Wockhardt Hospital, hyderabad, India |
| | Wockhardt Hospital, Mumbai, India |
| | Fortis Hospital, Delhi, India |
| | Fortis Hospital, Mohali, India |
| | Fortis Hospital, Noida, India |
| | Manipal Hospital, Bangalore, India |
| | Sparsh Hospital, Bangalore, India |
| | Artemis Hospital, Gurgaon ( Delhi ) , India |
| | Max Super Specialty hospital, Delhi, India |
| | Max Devki Devi Heart and Vascular hospital, Delhi, India |
| | Max Health Check Centre, Delhi, India |
| | BGS Global Hospital, Bangalore, India |
| | BGS Global Hospital, Chennai, India |
| | BGS Global Hospital, Hyderabad, India |

For more information, medical assessment and medical quote send your detailed medical history and medical reports
as email attachment to
Email : - info@wecareindia.com
Call: +91 9029304141 (10 am. To 8 pm. IST)
(Only for international patients seeking treatment in India)
For a detailed evaluation send patientís medical reports / X rays / doctors notes to info@wecareindia.com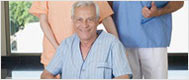 Patient Storys
Successful heart surgery at We Care India partner hospital allows Robert Clarke to live a normal life despite a rare genetic disorder We Care india helped Robert find best super specialised surgeon for his rare conditions.

Read : Robert's Story
See All : Patient's Success Stories


Related Link
Group Websites
Find us on