LASIK eye surgery at the Apollo Hospitals Hyderabad
Photo Refractive Kertectomy (PRK)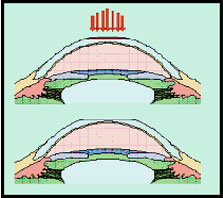 In this procedure the laser treatment is directly performed on the surface of the cornea to reshape it for correction of refractive errors. This is usually performed for people with smaller refractive errors. The surface layer usually takes 3-4 days to heal and the vision gradually improves thereafter.



Laser in Situ Keretomileusis (LASIK)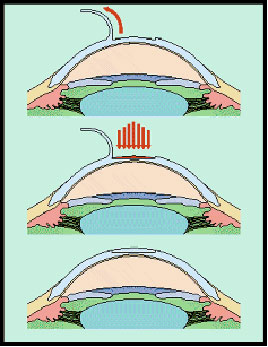 This procedure involves first creating a thin flap of cornea with an instrument called the microkeratome. Followed by lifting of the flap and laser treatment to reshape the cornea. The flap is then repositioned in its original place. Improvement in vision is noted right from the next day.

The beam profile of Wave light laser has been wave front optimized, hence it removes lesser amount of corneal tissue when compared to other laser machines, thus making the treatment more safer for your eyes. Wavefront optimization also ensures that you do not experience any glare or halos during the night while looking at bright lights.

Wavelight laser allows multiple options for customized treatments, such as wave front guided, topography guided, Q factor guided treatments. Such treatment modalities are far superior when compared to those with other lasers such as zyoptix, custom vue, or custom cornea.

Both PRK and LASIK procedures are absolutely painless and are performed as outpatient procedure using topical anesthetic eye drops. The entire procedure lasts for only 10 -15 minutes and you will be awake during the entire procedure. During the treatment you are required to look at a fixation light while the laser is performed and you will also hear the noise of the laser machine during the treatment.

The actual laser treatment only lasts for 15 to 45 seconds. Following the treatment you can return home immediately. However you should make arrangements for a friend or relative to take you home after the procedure.

After going through our site there will be many doubts rising in your mind. We have tried to answer few general questions for more details you can contact us we will be more than happy to be of assistance to you.


Am I eligible for LASIK ?
While most patients are eligible for LASIK, not everyone is.
An ideal candidate for refractive surgery ?
Must be atleast 18 years of age with stable refraction for 1 year.
No associated eye diseases.
No connective tissue disorders.
Must discontinue contact lens wear 2 weeks prior to refractive surgery.

Eligibility also depends on the amount of refractive errors , the curvature and thickness of the cornea and a number of other factors that an ophthalmologist must evaluate. Proper patient selection is vital for successful refractive surgery and a satisfied patient.


Other Options of Refractive Surgery
Phakic IOL implantation : -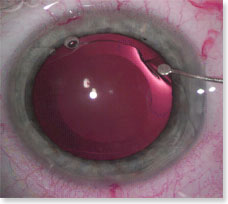 Higher degrees of refractive errors often cannot be corrected by laser refractive surgery, in these patients, implantation of special implants such as phakic intraocualr lens (Veriseye) allows correction of refractive errors with good unaided vision post surgery.






Astigmatic Keratotomy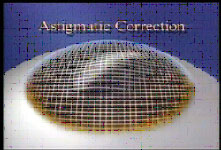 Using a diamond knife, incisions can be placed on the cornea to correct astigmatic refractive errors (cylindrical power).





Refractive lens exchange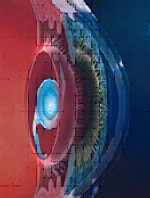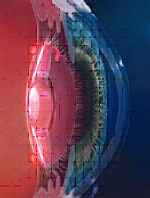 Very high refractive errors can be corrected by replacing the natural crystalline lens with new generation intraoculer lens (Wavefront optimized anterior surface multifocal lens and posteriors square edge IOL's) i.e. refractive cataract surgery).



Cataract Surgery





Cataract or clouding of the natural crystalline lens can be corrected surgically by removing the cataract and replacing the same with an intraocular lens (IOL) implant. Ultrasound A Scan and keratotomy tests are used for accurate IOL power calculation.



The cataract is removed with phacoemulsification, a technique wherein ultrasonic energy is used to break and emulsify the cataract followed by removal. All this performed through an incision size of just 2.75mm.



Our phaco machine, AMO Sovereign,with new white star technology allows cold phaco (minimal build up of heat during cataract surgery). That is much safer for the eye compared to conventional phaco machines.

IOL selection is customized for each individual to ensure best visual outcome. The surgery is painless and patients can return home the same day.


Branches of Apollo Hospitals in India : -
| | |
| --- | --- |
| | Apollo Hospital, Chennai, India |
| | Apollo Specialty Hospital, Chennai, India |
| | Apollo Hospitals, Bangalore, India |
| | Apollo Hospitals, Ahmadabad, India |
| | Apollo Hospitals, Hyderabad, India |
| | Apollo Gleneagles Hospital, Kolkata, India |
| | Indraprastha Apollo Hospital, Delhi, India |

For more information, medical assessment and medical quote send your detailed medical history and medical reports
as email attachment to
Email : - info@wecareindia.com
Call: +91 9029304141 (10 am. To 8 pm. IST)
(Only for international patients seeking treatment in India)
For a detailed evaluation send patientís medical reports / X rays / doctors notes to info@wecareindia.com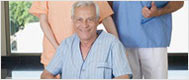 Patient Storys
Successful heart surgery at We Care India partner hospital allows Robert Clarke to live a normal life despite a rare genetic disorder We Care india helped Robert find best super specialised surgeon for his rare conditions.

Read : Robert's Story
See All : Patient's Success Stories


Related Link
Group Websites