Sleep Apnea

Sleep apnea is a sleep disorder characterized by pauses in breathing during sleep. Each episode, called apneas. Some individuals stop breathing for brief intervals, however, when these episodes of apnea become more frequent and last longer, they can cause the body's oxygen level to decrease, which can disrupt sleep.

Narrow nasal passages, enlarged tonsils, and obesity are factors that may contribute to obstructive sleep apnea. The condition may also be related to the use of alcohol, tobacco, or sedatives.

One of the most common signs of obstructive sleep apnea is loud and chronic (ongoing) snoring. Pauses may occur in the snoring. Choking or gasping may follow the pauses. The snoring usually is loudest when you sleep on your back; it may be less noisy when you turn on your side. Snoring may not happen every night. Over time, the snoring may happen more often and get louder


The non surgical treatments include : -
Behavioral changes
Dental appliances
CPAP (continuous positive airway pressure)

Behavioral changes are the simplest treatments for mild obstructive sleep apnea, but often the hardest to make. Positive airway pressure, the most widely recommended treatment for moderate to severe obstructive sleep apnea, entails wearing a mask-like device while you sleep that supplies pressurized air, which helps prevent the airway from collapsing. The most common of these devices is called CPAP (Continuous Positive Airway Pressure), which provides constant air pressure regardless of whether you are breathing in or out.

A dentist or orthodontist can make a custom-fit plastic mouthpiece for treating sleep apnea. The mouthpiece will adjust your lower jaw and your tongue to help keep your airways open while you sleep.



Surgery

Certain types of surgery can increases the size of your airway by surgically removing tissues. The surgeon may remove tonsils, adenoids, or excess tissue at the back of the throat or inside the nose. Or, the surgeon may reconstruct the jaw to enlarge the upper airway.



The list of of Neurosurgery Hospitals in India is as follows : -
| | |
| --- | --- |
| | Apollo Hospitals, Bangalore, India |
| | Apollo Hospital, Chennai, India |
| | Apollo Hospitals, Hyderabad, India |
| | Indraprastha Apollo Hospital, Delhi, India |
| | Apollo Gleneagles Hospital, Kolkata, India |
| | Wockhardt Hospital, Mumbai, India |
| | Fortis Hospital, Delhi, India |
| | Fortis Hospital, Mohali, India |
| | Fortis Hospital, Noida, India |
| | Escorts Heart Institute Hospital, Delhi, India |
| | Artemis Hospital, Gurgaon ( Delhi ) , India |
| | Max Devki Devi Heart and Vascular hospital, Delhi, India |
| | BGS Global Hospital, Bangalore, India |
| | BGS Global Hospital, Chennai, India |
| | BGS Global Hospital, Hyderabad, India |

For more information, medical assessment and medical quote send your detailed medical history and medical reports
as email attachment to
Email : - info@wecareindia.com
Call: +91 9029304141 (10 am. To 8 pm. IST)
(Only for international patients seeking treatment in India)
For a detailed evaluation send patientís medical reports / X rays / doctors notes to info@wecareindia.com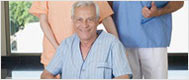 Patient Storys
Successful heart surgery at We Care India partner hospital allows Robert Clarke to live a normal life despite a rare genetic disorder We Care india helped Robert find best super specialised surgeon for his rare conditions.

Read : Robert's Story
See All : Patient's Success Stories


Related Link
Group Websites
Find us on