Overview
Acetabular Fixation Options in Total Hip Replacements

Osteolysis and loosening, despite great changes in bearing materials, continue to be a problem in total hip replacements (THR). Hybrid fixation, proposed in 1989 to aid such problems, has not completely solved them.2 There are times during surgery that an alternative to the routine, predetermined technique is needed. Recent alterations in cementless femoral and/or cemented acetabular fixation have produced promising clinical returns and have shown improvement in dealing with linear wear and osteolysis.

3,4 Despite these results, cementless acetabular fixation has now become the treatment of choice because of its ease of insertion and predictability. There are times, however, when the bone presents a need for a different means of fixation than that planned preoperatively.

The purpose of the present study was to compare 2 practices-hybrid vs reverse hybrid THR-and then correlate these results with our present-day cementless acetabular fixation results to determine if polyethylene wear, osteolysis, and survival are different.



Materials and Methods

Between 1987 and 2005, a retrospective review of all THR cases using 2 independent series of hybrid and reverse hybrid cementing techniques was performed. Four hundred fifty-nine hips received a hybrid replacement, and 54 hips received a reverse hybrid replacement. A match-case analysis (n=54 hips in each series) was done between the hybrid and reverse hybrid cohorts, including gender, primary diagnosis, age, and body mass index (average follow-up, 5.8 years; range, 2-16.8 years).

Between 1997 and 2006, cementless fixation was used in 1815 hips. All acetabular cups were evaluated for loosening and revision at a minimum of 2 years (average, 4.5 years; range, 2-10.3 years).

All hybrid replacements were done using a cementless universal all-poly socket before 1997 and Trident (Stryker, Mahwah, New Jersey), Mallory Head, or Ring Loc (Biomet, Inc, Warsaw, Indiana) cementless sockets thereafter, as well as a cemented stem. All reverse hybrid replacements were done using a cemented compression-molded all-polyethylene socket and a cementless stem. The auxiliary study of cementless cup fixation was done primarily with second-generation all-polyethylene sockets. Fixation of the acetabular component in reverse hybrid cases followed the cementing technique described by Berend and Ritter.3



Results

Of the 54 hips (n=54 patients) in the hybrid group, 8 patients died with a well-functioning arthroplasty (range, 2.7-16.9 years) and none were lost to follow-up. Five hybrid THRs (9.3%) were revised. Two (3.7%) underwent revision for a loose acetabular component caused by pelvic osteolysis, 2 (3.7%) for a loose femoral component, and 1 (1.9%) for a fractured femoral stem.

One hip (1.9%) had a partially loose acetabular cup but was not revised. Of the 54 hips (n=54 patients) in the reverse hybrid group, 4 patients died with a well-functioning arthroplasty (range, 2.3-14.6 years) and none were lost to follow-up. One patient underwent a revision procedure due to a loose femoral stem. No patients in the reverse hybrid group reported significant postoperative complications, including residual polyethylene wear, osteolysis, or evidence of acetabular aseptic loosening.

The radiographic evaluation of the hybrid series showed no migration of the acetabular component except for the 2 loose acetabula. Pelvic osteolysis was observed in 3 hips (5.6%). Polyethylene cup wear was not detectable in 48 hips (88.9%). Four hips (7.4%) had =1 mm wear, 1 hip (1.9%) had 1 to 2 mm wear, and 1 hip (1.9%) had >2 mm wear. Maximum wear was 3 mm of a patient's left hip 10 years postoperative. All hips with wear or osteolysis were in first-generation cementless cups using conventional sterilization and machining of the polyethylene.

The radiographic evaluation of the reverse hybrid series showed no migration of the acetabular component. No focal or pelvic osteolyses was observed in any of the hips. No polyethylene wear was detected on incremental follow-up radiographs 5 years postoperative. Radiolucency was noted at the zone 1 bone-cement interface in 6 hips (11%).

Of the entire cementless cup cohort, 215 hips (11.8%) were revised due to arthroplasty failure, which included malposition of the cup with or without recurrent dislocation, with 19 (1.0%) of those due to acetabular cup failure. All acetabular cup failures were associated with loosening of the acetabulum component.



Discussion

To determine the best mode of acetabular fixation, one must not only evaluate the fixation but the bearing surface and polyethylene wear as well. The bearing surfaces and wear are small; therefore, fixation is paramount.

Although midterm results for hybrid THR have been satisfactory, problems associated with high polyethylene wear, femoral loosening, and increased pelvic/focal osteolysis are cause for concern. Unfortunately, the polyethylene was not the same.

Postoperatively, the clinical results of the 2 series were excellent. The radiographic evidence of osteolysis and cup liner wear in the hybrid series compares favorably with reported series using a hybrid fixation. Although no studies directly related to reverse hybrid fixation are in the current literature, numerous studies have reported positive outcomes with cemented acetabular sockets5,6 and cementless femoral components.5

Similar clinical success and long-term survivorship was observed in this study's reverse hybrid series. This is probably due to the institutional cup cementing technique used in reverse hybrid fixation,3 although success with cup cementing is hard to achieve and maintain in standard clinical practices.

This conclusion agrees with the argument that component fixation should be determined by each individual's anatomy, and whether cement is used should be on a case-by-case basis based on the patient's hip findings. Unfortunately, in the cemented acetabular cohort we experienced a radiolucent line in zone 1 in 11% of hips, and from our experience this will eventually lead to failure of the acetabular cup in the long term.7 Due to this potential risk of failure and the difficulty of achieving admirable cement fixation of the acetabulum component, contemporary cementless fixation seems to be the more conventional and understandable method of choice for acetabular cup fixation.



Conclusion

This study shows that the reverse hybrid THR, although unusual, is a successful alternative to hybrid THR when a need arises and institutional resources allow. With the exclusion of varying patient demographics (gender, body mass index, age, and primary diagnosis), the reverse hybrid series of 54 hips accounted for excellent postoperative hip performance, mobility, and survivorship, showing clinical outcomes better than the hybrid series following a minimum 2-year follow-up retrospective review. However, because of the overall difficulty in cementing the acetabular cup, the ease and predictability of the cementless fixation, and now the options of modular bearing surfaces, cementless fixation for the acetabular cup must be considered the gold standard.




The list of of Hip Replacement Hospitals in India is as follows : -
| | |
| --- | --- |
| | Apollo Hospitals, Bangalore, India |
| | Apollo Hospital, Chennai, India |
| | Apollo Hospitals, Hyderabad, India |
| | Indraprastha Apollo Hospital, Delhi, India |
| | Apollo Gleneagles Hospital, Kolkata, India |
| | Apollo Hospital, Goa, India |
| | Wockhardt Hospital, Bangalore India |
| | Wockhardt Hospital, Mumbai, India |
| | Fortis Hospital, Delhi, India |
| | Fortis Hospital, Mohali, India |
| | Fortis Hospital, Noida, India |
| | Manipal Hospital, Bangalore, India |
| | MIOT Hospital, Chennai, India |
| | Sparsh Hospital, Bangalore, India |
| | Artemis Hospital, Gurgaon ( Delhi ) , India |
| | Max Devki Devi Heart and Vascular hospital, Delhi, India |
| | BGS Global Hospital, Bangalore, India |
| | BGS Global Hospital, Chennai, India |
| | BGS Global Hospital, Hyderabad, India |

For more information, medical assessment and medical quote send your detailed medical history and medical reports
as email attachment to
Email : - info@wecareindia.com
Call: +91 9029304141 (10 am. To 8 pm. IST)
(Only for international patients seeking treatment in India)
For a detailed evaluation send patientís medical reports / X rays / doctors notes to info@wecareindia.com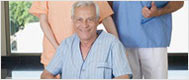 Patient Storys
Successful heart surgery at We Care India partner hospital allows Robert Clarke to live a normal life despite a rare genetic disorder We Care india helped Robert find best super specialised surgeon for his rare conditions.

Read : Robert's Story
See All : Patient's Success Stories


Related Link
Group Websites
Find us on