Custom LASIK or Wavefront LASIK Wavefront Diagnosis and Wavefront Treatment

Custom LASIK surgery, also known as wavefront LASIK or wavefront-guided LASIK, uses 3-dimensional measurements of how your eye processes images to guide the laser in re-shaping the front part of the eye (cornea).

As a general rule, the quality of vision with wavefront is superior to conventional laser eye surgery, but that does not mean that wavefront Lasik is best for everybody. Individual circumstances will vary.The primary difference between conventional Lasik and wavefront custom Lasik is the mapping system that guides the laser. Wavefront can be used for virtually all laser eye surgery techniques including All-Laser Lasik, Lasik, PRK, LASEK, and Epi-Lasik.

With a wavefront measurement system, some extremely precise, individualized vision correction outcomes may be achieved that would be impossible with traditional LASIK surgery, contact lenses or eyeglasses. Depending on the custom laser system used and other factors such as appropriate thickness of your cornea, you might be considered a candidate if you have mild to moderately high degrees of common vision defects such as myopia, hyperopia and astigmatism.

With custom LASIK, your eye's ability to focus light rays is measured, and a 3-D map is created that demonstrates irregularities in the way your eye processes images. Information contained in the map guides the laser in customizing the treatment to reshape your eye's corneal surface so that these irregularities can be corrected. [See also: Wavefront Technology in Eye Exams]

Standard prescriptions for glasses, contacts, or traditional LASIK procedures can correct ordinary vision defects such as myopia, hyperopia, and astigmatism. But other irregularities associated with the eye's optical system could not be addressed until the advent of wavefront and related technology used in custom LASIK



Wavefront Diagnosis and Wavefront Treatment

Wavefront is actually used in two separate ophthalmic events. The first is a wavefront evaluation and diagnosis of existing aberrations. The second is using what is learned from the diagnosis to create a wavefront-guided ablation for Lasik, PRK, LASEK, or Epi-Lasik.

A wavefront diagnostic can determine if an individual has aberrations that would be exacerbated by refractive surgery to the point of causing vision problems. No other technology can achieve this level of diagnosis. Wavefront diagnostic can determine if a wavefront guided ablation is an absolute requirement, conventional ablation would be fine, or the patient should not have surgery at all. This is why we believe wavefront diagnostic is an important evaluation.



Wavefront Diagnostic For Every Patient

Everyone considering any corneal-based refractive surgery, such as Lasik, LASEK, PRK, or Epi-Lasik should have a wavefront diagnostic. A wavefront diagnostic will determine if critical HOA are below normal, normal, or elevated. If the HOA are elevated, either wavefront-guided surgery is required, or no surgery is appropriate. If HOA are normal, wavefront-guided surgery may be wise. If HOA are below normal, wavefront-guided continues to be an option, but not a requirement. This is assuming, of course, that you meet all other requirements for wavefront-guided Lasik, LASEK, PRK, or Epi-Lasik laser eye surgery.

If you are ready to choose a doctor to be evaluated for conventional or wavefront custom Lasik, All-Laser Lasik, PRK, LASEK, Epi-Lasik, NearVision CK, RLE, or any refractive surgery procedure



Potential Benefits

How much you see depends on vision defects known as lower-order aberrations associated with common refractive errors including myopia, hyperopia, and astigmatism, which traditional LASIK can treat.

How well you see can depend on presence of the type and numbers of visual distortions known as higher-order aberrations, which can include irregularities other than common refractive errors. Unlike traditional LASIK, custom LASIK treats both lower- and higher-order aberrations.


Custom LASIK's advantage lies in the area of quality of vision : -
Greater chance of achieving 20/20 vision
Greater chance of achieving better than 20/20 vision
Reduced chance of losing best-corrected vision
Reduced chance of losing visual quality or contrast sensitivity
Reduced chance of night-vision disturbances and glare

vision quality problems, such as not being able to see in dim or low light. This is referred to as poor contrast sensitivity, can now be measured and shown to the patient what's going on in their eye.This information is linked to the laser, and actually higher-order aberrations that diminish contrast sensitivity corrected. Wavefront technology enables the surgeon to improve overall vision quality better than in the past



How Custom LASIK Works / Procedure / Steps of Custom LASIK

The surgeon in one popular method will begin by using the wavefront device to transmit a safe ray of light into your eye. The light is then reflected back off the retina, out through the pupil, and into the device, where the reflected wave of light is received and arranged into a unique pattern that captures your lower- and higher-order aberrations.

All of these visual irregularities are then displayed as a 3-D map, referred to as a wavefront map. This information is then electronically transferred to the laser (in wavefront-guided systems), and computer-matched to the eye's position, enabling the surgeon to customize the LASIK procedure to your unique visual requirements.



Getting Wavefront-Guided Custom LASIK

Numbers of LASIK procedures in general grew significantly in 2004 and 2005, with many leading LASIK surgeons reporting in publications such as EyeWorld (published by the American Society of Cataract and Refractive Surgery) that most eligible patients were opting for more expensive custom LASIK.

The advent of custom LASIK also seems to be contributing to increased public interest in undergoing LASIK. Review of Optometry in its October 2004 edition predicted about 1.35 million total LASIK procedures would be performed in the United States by the end of the year, up from 1.15 million procedures in 2003. About 1.45 million U.S. LASIK procedures were predicted for 2005*, though analysts feel that number may be revised because of fewer than expected procedures being performed in southern states that were affected by Hurricane Katrina.

A 2006 Staar Surgical report estimates that about 1.4 million LASIK procedures currently are performed annually in the United States, about half of all procedures worldwide.

Custom LASIK usually costs significantly more than traditional LASIK, partly because a fee is paid to the device manufacturer for each procedure. For more information on custom LASIK pricing, please see our article on the cost of refractive surgery.

Research is continuing into expanding the degree of vision errors (such as high myopia) that can be corrected with custom LASIK. Investigations also are underway for use of custom LASIK to create multifocal corrections, which would enable older eyes that have developed presbyopia to see at near, middle, and distant ranges at the same time.

Like conventional LASIK, custom LASIK won't cure all vision-related problems, so it's important to discuss its applications with your eye doctor or surgeon to determine if you are a good candidate.




The list of of Eye Hospitals in India is as follows : -

For more information, medical assessment and medical quote send your detailed medical history and medical reports
as email attachment to
Email : - info@wecareindia.com
Call: +91 9029304141 (10 am. To 8 pm. IST)
(Only for international patients seeking treatment in India)
For a detailed evaluation send patientís medical reports / X rays / doctors notes to info@wecareindia.com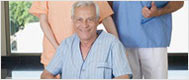 Patient Storys
Successful heart surgery at We Care India partner hospital allows Robert Clarke to live a normal life despite a rare genetic disorder We Care india helped Robert find best super specialised surgeon for his rare conditions.

Read : Robert's Story
See All : Patient's Success Stories


Related Link
Group Websites
Find us on