Overview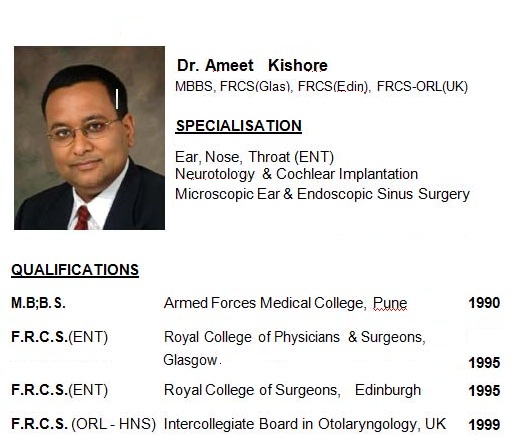 Current Appointments
Director & Chief Consultant
ADVENTIS (Advanced ENT Service) , Gurgaon, India
Sr. Consultant in Otolaryngology & Neurotology
(Lead Cochlear Implant Surgeon)
Indraprastha Apollo Hospital, Sarita Vihar, New Delhi, India


CLINICAL EXPERIENCE AND SPECIAL SKILLS
Over 18 years of experience obtained in UK, Europe and USA - in all aspects of ENT. Competent in the management of all conditions of the ear, nose and throat - in both children and adults.


Otology & Neurotology (Conditions of the ear, hearing and balance)
Trained extensively at leading centres in UK, Europe and USA in ear surgery.

Have large experience in Otology to treat diseases of the ear: such as ear discharge, ear drum perforation, chronic otitis media, chronic mastoiditis, cholesteatoma and hearing loss occurring due to these conditions.

Routinely carry our microscopic ear surgical procedures : tympanoplasty, myringoplasty, ossiculoplasty, stapedotomy / stapedectomy and mastoidectomy.

Experienced in a variety of neuro-otological and skull base procedures. Am competent in the medical and surgical management of dizziness and facial paralysis. Experienced in the surgical management of acoustic nerve tumours, glomus tumours and other lateral skull base surgery.

Well equipped with advance surgical tools such as high speed drills, nerve monitoring system, microscopes and lasers.


Cochlear Implants, Auditory Brainstem Implants & Bone Anchored Hearing Aids
Trained at the National Centre for Cochlear Implantation (UK) since 1995 and thus have extensive experience in management of deafness with cochlear implantation.

The above experience has empowered me to set up the cochlear and hearing implant programme (for children and adults) in Delhi NCR. Have a series of over 400 cochlear implant procedures in the last 5 years.

Also provide Bone Anchored Hearing Aids (BAHA) and Vibrant Soundbridge middle ear implants as options for patients with hearing loss. Am one of the first surgeons in India to have independently carried out Auditory Brainstem Implantation, in both child and an adult.


Head and Neck
Experienced in the management of salivary gland disorders including salivary gland endoscopy, submandibular and parotid gland surgery as well as thyroid gland surgery.
Well versed in microlaryngeal surgery and phonosurgical techniques for hoarseness.

Endoscopic Nasal, Sinus and Skull base surgery
Routinely perform endoscopic nasal and sinus surgical procedures with large experience in Functional Endoscopic Sinus Surgery (FESS). Well equipped with specialised tools such as endoscopic camera systems, microdebrider, Balloon Sinuplasty, radiofrequency and lasers.

Also perform advanced endoscopic procedures such as orbital decompression, optic nerve dcompression, dacryocystorhinostomy (DCR), sphenopalatine artery ligation, endoscopic closure of CSF leaks and endoscopic pituitary tumour surgery. I have experience in the use of Surgical Navigation Systems for Sinus and Skull Base surgery.


Paediatric ENT
My training at the Royal Hospital for Sick Children, Glasgow has empowered me to manage childrens' ENT disorders. Am competent in the management of the child with common problems as tonsils, adenoids, glue ear as well as with noisy and difficult breathing (stridor) and other conditions that affect the paediatric airway (breathing passage).

Am experienced in the complete range of procedures that may be necessary in the surgical management of a child with airway problems : such as laryngo-bronchoscopy, lasers, paediatric tracheostomies, cricoid splits and laryngotracheal reconstructions with costal cartilage grafts.


Deafness, Hearing Aids, Therapy for Hearing and Speech disorders
I work very closely with my team of audiologists, hearing and speech therapists at our Speech – Hearing & Cochlear implant Centres. We have set up programmes for neonatal (newborn) hearing screening at Apollo Hospital and other medical centres, which is paramount for the early detection of hearing impairment in babies.

Facilities for complete comprehensive testing for children and adults with hearing impairment are available, and all options for the management of hearing loss are discussed. We have the expertise to fit a variety of external and implantable hearing devices. Expertise in hearing therapy and speech therapy with the team of trained therapists ensures we obtain the best results possible.


EXPERIENCE / APPOINTMENTS
Current
Director & Chief Consultant
ADVENTIS (Advanced ENT Service)

Sr. Consultant in Otolaryngology & Neurotology
(Lead Cochlear Implant Surgeon)
Indraprastha Apollo Hospital, Sarita Vihar, New Delhi, India

Oct 2005
Previous
Consultant Otolaryngology (ENT) Surgeon & Hon. Senior Lecturer
Department of Otolaryngology, Head and Neck Surgery
Glasgow Royal Infirmary University Hospital , UK
April 2002 to Sept 2005
Specialist Registrar Surgeon in Otolaryngology (ENT)
West of Scotland Hospitals, UK
Oct 1995 to April 2002
I worked for over 6 years through various hospitals in the region.
Super-speciality experience obtained at the following Centres :
National Centre for Cochlear Implants, Crosshouse Hospital - Cochlear Implantation
Glasgow Royal Infirmary - Microscopic Ear Surgery & BAHA surgery
Gartnavel Hospital (Glasgow) – Endoscopic Sinus Surgery, Head & Neck Surgery
Victoria Royal Infirmary (Glasgow) - Endoscopic Sinus Surgery, Laser Surgery
Institute of Neurological Sciences (Glasgow) - Neuro-otology & skull base surgery
Stobhill Hospital (Glasgow) – Ear Surgery
Royal Hospital for Sick Children (Glasgow) - Paediatric ENT
Basic Surgical Training January 1992 to October 1995
My basic surgical training was composed of 2 years of Otorhinolaryngology and 20 months of Surgical training in General, Plastic & Paediatric Surgery.
Fellowships
Cochlear Implantation : National Centre for Cochlear Implants, Crosshouse hospital, UK
Neuro-Otology & Skull Base Surgery : Institute of Neurological Sciences, Glasgow, UK
Paediatric ENT : Royal Hospital for Sick Kids, Yorkhill, UK
Cochlear & Vibrant ME Implants: ENT Klinik, Univ of Wurzburg, Germany
Micro Ear Surgery : Causse Clinic, Beziers, France
Ear & Skull base surgery : Gruppo Otologico, Piacenza, Italy
Ear & Sinus Surgery : New York Ear and Eye Infirmary, USA
Endoscopic Sinus & Micro ear Surgery : Univ. of Zurich, Switzerland
Cochlear & Auditory Brainstem Implants : Manchester Royal Infirmary. UK
Microscopic Ear Surgery : Portmann Institute, Bordeaux, France
Teaching and Continuing Medical Education
My appointment as Hon. Senior Lecturer at the University of Glasgow involved a regular teaching commitment towards undergraduates and postgraduates.
I continue to teach at a number of courses and workshops as faculty. Have over 30 publications in peer reviewed journals, and book chapters. Present widely at local, national and international conferences and meetings.
AWARDS
AOI gold medal for the best Consultant paper
2011
TWJ Fellowship to visit the Causse Clinic, Beziers
2003
Silver medal for the best paper presentation at the Annual Conference of Neuro-otological & Equilibriometric Society, New Delhi
2001
Travel grant, Section of Otology, Royal Society of Medicine
2001
Travelling Fellowship, Royal College of Physicians and Surgeons of Glasgow
2001
Scottish Otolaryngological Society prize for the best Registrar presentation at the annual S.O.S. meeting, Dumfries.
1999
Downs' Temporal Bone Dissection Competition (1st Prize) (Royal National Throat, Nose and Ear Hospital , London ).
1996
Downs' Temporal Bone Dissection Competition (2nd Prize) (Royal National Throat, Nose and Ear Hospital , London ).
1995
Glasgow Temporal Bone Dissection Prize (Royal College of Physicians and Surgeons of Glasgow).
1995
Cruden Temporal Bone Prize (Scottish Otolaryngological Society)
1995
Anil Chadha memorial medal for Otorhinolaryngology (AFMC)
1990
Merit Award in Surgery (AFMC)
Merit award in Otorhinolaryngology and Ophthalmology (AFMC)
1990
Ashok Kumar S.Patel memorial medal for Pharmacology (AFMC)
1989
SOCIETY MEMBERSHIPS
Cochlear Implant Group of India (Jt. Secretary)
Indian Society of Otology Association of Otolaryngologists of India Neurotological – Equilibriometric society of India European Academy of Otology & Neurotology British Association of Paediatric Otolaryngology
CONTACT DETAILS:
ADVENTIS (Advanced ENT Centre) - ENT Clinic
19 Deodar Marg, DLF City – I, Gurgaon 122002.


For more information, medical assessment and medical quote send your detailed medical history and medical reports
as email attachment to
Email : - info@wecareindia.com
Call: +91 9029304141 (10 am. To 8 pm. IST)
(Only for international patients seeking treatment in India)