Overview
Dr. Sandeep Mane

When dr. Sandeep Mane completed his medical training at the royal collage, London, he realized that he was equipped with skills that would find use 7000 km away, in his homeland. He decided to return to India and set up "the ORIGIN" international fertility centre at thane, near Mumbai.

Dr. Sandeep Mane had the perfect qualifications and drive to realize this ambition. A certified laparoscopic and hysteroscopic surgeon from the royal college London, he had over 12 years of experiences in the UK and USA at such prestigious institutions as :


Royal free hospital, London, UK
Birmingham women's hospital, Birmingham , UK
University college London hospital, London, UK
University hospital of wales, Cardiff, UK
Royal college of obstetricians and gynaecologists, London, UK
Hospitals in Atlanta and Wisconsin in the US.

During these years, as he acquired a vast storehouse of knowledge and experience, he simultaneously accumulated other achievements.

He obtained a certificate of completion of specialist training, and a special skills certificate in advanced laparoscopy and hysteroscopy in the UK.

At this time, he was entered into the register of specialist doctors in the UK. He become director of the surgical skills training course at the royal college(London), and was in charge of surgical skills training at the welsh institute for minimal access therapy (WIMAT) in Cardiff. He represented royal college of obstetricians and gynaecologists (RCOG) at the royal college of surgeons, London to discuss joint surgical skills training. He was the first Indian doctors to be a convenor at the royal college and chair a committee before becoming a consultant in the UK.

Dr. Mane has educated and trained over 15000 doctors across the world. He is regularly invited as an international guest at scientific meetings in Canada, USA and Europe. He had been offered a confirmed attachment at the Hinduja hospital in Mumbai as a consultant endoscopic surgeon.

The jewel in his crown of achievements is his nomination for the bharat jyoti award in 2007-08, which places him on the same pedestal as mother Teresa, justice P N Bhagwati, Sunil Gavaskar and Dhanraj pillai who have all been outstanding luminaries in their chosen fields.



Dr. Rajashree Mane

Dr. Rajashree Mane completed her MD at KEM hospital in Mumbai in 1994. She went to the UK for further training, where she obtained qualifications as a certified specialist with skills in gyneacological ultrasound from the royal college, UK.


She worked for 12 years at prestigious institutions in the UK such as : -
Queen medical centre, Nottingham
Sunderland royal hospital
University hospital of wales, Cardiff
Royal glamorgan hospital, wales
Queen mary's hospital, Kingston-Upon-Thames

She held clinical posts of research fellow and specialist registrar while at these institutions. She carried , and was responsible for training numerous doctors at the welsh institute for minimal access therapy (WIMAT) in Cardiff and Royal college in London. She undertook several teaching assignments and made numerous presentations of her work, and was awarded the best presentation prize at the welsh trainees meeting.

Dr. Rajashree Mane returned to India along with her husband, and is now a key figure and pillar of strength of "the Origin" international fertility centre. With her feminine insight, communication and counseling skills and specialist knowledge. She provides the perfect backdrop that transforms a medical research centre into a friendly, caring treatment facility.



International faculty
Chief embryologist :
Dr. Jayant Mehta


Ph. D.(London)
gynaecological endoscopic surgeons : -
Mr. Richard Penketh


Consultant obstetrician and gyneacilogist,
The university hospital of wales, uk.

Dr. Tom Lyons


Director, centre for women's care and reproductive surgery,
Atlanta, GA,USA

Mr. Yatin Thakur


Consultant obstetrician and gynaecologist,
basildon hospital, UK.
infertility specialists:
Mr. Nazar Amso


Consultant obstetrician and gynaecologist,
The university hospital of wales, uk

Dr. Reena Agarwal


Senior lecturer and specialists,
Rpyal free hospital, London, UK

Dr. Emanuel Kalu


Consultant obstetrician and Gynaecologist,
Kingston Upon Thames, UK.
Other Experts :
Dr. Rajan Mane


Senior anaesthetist,
Queens hospital, London, UK

Ms. Wendy Winer


RN, BSN, CNOR
Endoscopic surgery specialist nurse at the centre for women's care and reproductive srgery,
Atlanta, USA

Dr.Saurabh Rai


Laparoscopic general Surgeons, UK

Vision
"The Origin " was setup with a clear vision : -
To offer quality care to patients
To impart professional and communication skills to doctors
To conduct research to improve healthcare for women
To create opportunities to serve society
Conception to creation

A dream that had its origins in the dreams of others, the idea of a world-class facility for the treatment of infertility gradually took shape. And " The origin" international fertility centre was born. The center is located in the sprawling suburb of thane near Mumbai. Opposite the hirananadani meadows. It is 4 km away from thane station, and can be easily accessed by road and rail.

Fully compliant with European standards and ICMR guidelines, "The Origin" is the largest super speciality centre for fertility and endoscopic surgery in India and a centre of excellence for the treatment of infertility and related problems.

Patients from all over India and abroad can avail of the following specialist diagnostic tools and treatments available at " The Origin" :


Assisted reproductive technologies such as ovulation induction, intra-uterine insemination(IUI), in-vitro fertilization(IVF) and intra-cytoplasmic sperm injection(ICSI).
Tubal surgery and ovarian procedures such as hysterectomy, treatment of urinary difficulties, prolaspe and menstrual disorders at its advanced endoscopy centre.
ultra sonography and colour-dopper sonography.

Diagnosis and treatment are carried out by an international panel of specialists. Concomitant with the above treatments are the equally important stress management sessions and relaxation therapies like aroma and music therapy, meditation and yoga. These are carried out by trained experts.

Counseling services are available that sooth, reassure and provide the much needed psychological support to patients and their families. In keeping with the highest standards of doctors patients relationship, confidentiality, privacy and choice are given great importance.

A well appointed pathology centre carries out complete blood and test, screening for cancer and offers cost-effective health check packages.

"The Origin Pharmacy" is open round the clock, and carries a wide range of regular and life saving medicines. It is staffed with well trained, polite and educated pharmacists. The pharmacy offers a free home delivery service to its permanent customers, and carries out free diabetic and hypertension check ups on request. It publishes a free patient information guide, which can be shared with its permanent customers through leaflets or e-mail. Specialist doctors are invited to share their expertise trough quarterly seminars.



Post-modern facilities

"The Origin" is equipped with fully computerized state of the art equipment imported from uk, Europe and USA.


General equipment : -
Hitachi air-conditioning system
IBM computing system
Siemens telephone system
NEC and Panasonic video projection LCD screens
Toshiba ultrasound machines huntleigh remote- controlled electric patients examination couches
Luxo patients examination lights
Endoscopy equipment : -
Storz set including 3-chip HD image 1 system
Valleylab and eschmann diathermy machines
Eschmann remote controlled electric operation table
Blease (UK) anaesthetic machine
Mediland OT light with camera and monitor
Wolf and Olympus endoscopy training equipment
IUI/IVF/ICSI equipment : -
K systems IVF workstation
Nikon Microscopes
RI micromanipulator
Haraeus incubators and centrifuge machines
Coda tower air filtration system
Patient monitoring equipment :-
Datex monitors with Sony screens
Ultrasound facilities : -
Ultra sonography and colour droppler
Transvaginal scanners
Saline- infused sonography
Specialized scanners to detect birth defects
Power backup : -
Powerica with Cummins engine and UPS system

For more information, medical assessment and medical quote send your detailed medical history and medical reports
as email attachment to
Email : - info@wecareindia.com
Call: +91 9029304141 (10 am. To 8 pm. IST)
(Only for international patients seeking treatment in India)
For a detailed evaluation send patient's medical reports / X rays / doctors notes to info@wecareindia.com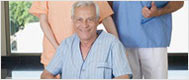 Patient Storys
Successful heart surgery at We Care India partner hospital allows Robert Clarke to live a normal life despite a rare genetic disorder We Care india helped Robert find best super specialised surgeon for his rare conditions.

Read : Robert's Story
See All : Patient's Success Stories


Related Link
Group Websites
Find us on